Sally Ann Gonzales
From KeyWiki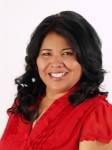 Sally Ann Gonzales is an Arizona state representative and educator, formerly a Yaqui Tribal Council member. She has represented the 27th district since January 10, 2011.
Background
Sally Ann Gonzales was born in Brawley, California and raised in the Yaqui community of Guadalupe, Arizona with her ten sisters and brothers. She is married to Pascua Yaqui tribal councilman Luis Gonzales with whom she has five daughters and 19 grand children. Sally holds a BA in Elementary Education from Arizona State University and a Masters in Multicultural Education from the University of Arizona.
Politics
In 1992 Gonzales was elected to the Pascua Yaqui Tribal Council and served until 1996 when she was elected to the Arizona House of Representatives. There she served two terms in the House representing Legislative District 10 where she sat on the Appropriations Committee, the Government Operations Committee, and as the ranking member of the Public Institutions & Universities committee. [1]
Educational career
Before starting her political career, Gonzales was an education professional. Since leaving office in 2000, she has continued within her profession, serving as the Education Director of the Pascua Yaqui Tribe. Her professional experience includes teaching, teacher training and administration for Tucson Unified School District, Tempe Elementary Schools, Arizona State University and the University of Arizona.
At Arizona State University's Center for Indian Education (CIE), she served as program manager for a yearlong professional teacher-training program for twenty Indigenous teachers from southern Mexico. She was also served as program manager for the Arizona Tri-Universities for Indian Education (ATUIE), the first and only consortium in the country dedicated to improving the condition of American Indian students in higher education.[2]
Service
At the University of Arizona, Gonzales served as coordinator to Manos a la Vida, a self-intervention research project that worked with women with breast cancer within the Hispanic community in southern Arizona and the border communities of Mexico.
Sally Ann Gonzales was a board member of the Pima Prevention Partnership, funded through the Center of Substance Abuse Prevention (CSAP) as a grassroots self-help organization to produce a lasting and significant reduction in substance abuse in the community by incorporating collaborative skills building, leadership training, to empower community groups to assume responsibility for understanding and acting on substance abuse issues within their own community.
She also serves the president of the board of Guadalupe Affordable Housing Inc. , a for-profit corporation incorporated to conduct real estate development, specifically single and multi-family affordable housing developments. Its objectives are to promote the availability of quality and affordable housing for low- to moderate-income individuals and families.[3]
Throughout her adult life, she has been involved in a wide range of civic activities to promote the rights of minority populations, especially Indigenous and Hispanic communities who are the historical and cultural foundation of Arizona.
Salt of the Earth Labor College
On February 5 2011 State Rep. Gonzales, spoke on the contribution of the Indigenous Women's Caucus during 2010's Permanent Forum on Indigenous Issues at the UN, with examples from the Yaqui women's struggle with the damaging effects of pesticides in Sonora, the the Communist Party USA's Salt of the Earth Labor College, Tucson.[4]
Tucson JwJ affiliate
Communist Party USA member Steve Valencia, chair of Tucson Jobs with Justice sent an email out notifying of a Tucson JwJ meeting Thursday, January 12th,2012
Please plan to attend our next Jobs with Justice meeting.
Location: American Postal Workers Union office, 2937 E. 22nd Street, just west of Country Club, north side of street
Agenda:
1. Labor solidarity: Communication Workers of America at American Airlines, learn about the organizing campaign from
Lee Ortega, organizer and how we can help.
2. The fight to save our Cherrybell Post Office, review of rally, march and hearing to save this processing plant and solidarity with the American Postal Workers Union, Tucson Area Local
3. The fight for Jobs!
Recipients included Sally Ann Gonzales.[5]
LD3 Democrat
In 2012 LD3 State Committee representatives were: Keith Bagwell, Sal Baldenegro, Donna Branch-Gilby, Pat Burns, Andres Cano, Cecilia Cruz-Baldenegro, Carolina Cruz-Popkin, Eva Carrillo Dong, Paul Eckerstrom, Isabel Garcia, Maria Garcia, Andrew Gardner, Sally Ann Gonzales, Luis A. Gonzales, Ramon Gonzales, Soaring Hawk, Alma Hernandez, Caitlin Jensen, Hai Laventure, Pamela Lopes, Phil Lopes, Michael Ossipov, Pat Poore, Barbara Tellman, Cecilia Valdez, and Barbara Wright. [6]
References