Rachel Weinstein
From KeyWiki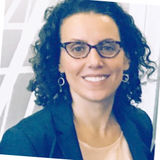 Rachel Weinstein is married to Jeffrey Thomas. Rachel Weinstein is an independent consultant specializing in supporting multi-stakeholder efforts. Prior to consulting, Rachel worked for elected officials, public schools and non-profits, helping each better collaborate with and serve their constituents.[1]
Education
PowerPac+ Board of Directors
PowerPAC+ Board of Directors, as of 2017 included Rachel Weinstein - Cambridge, MA Consultant.[2]
Collins rally
Harlan Baker December 6, 2017:
Rachel Weinstein speaks at a rally she organized to call out Senator Susan Collins for her support for regressive tax bill in Congress. Close to 250 people turned out. Afterwards people went over to Senator Collins' office. — with Rachel Weinstein.
References