Paulette Jordan
From KeyWiki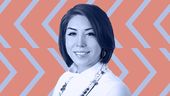 Paulette Jordan was born December 7, 1979 and is an American politician and a Democratic Party member of the Idaho House of Representatives, representing District 5 Seat A from 2014-2018.[1] She previously served on the Coeur d'Alene Tribal Council, its sovereign government. She is the only Democrat elected from northern Idaho. Jordan is running for Governor of Idaho in the 2018 election as a Democrat.[2]
Background
Paulette Jordan was born into a ranching and farming family in northern Idaho. She owns timberland and farmland in northern Idaho as well. She is an enrolled citizen of the federally recognized Coeur d'Alene tribe, which is based on the reservation of the same name. She also has Sinkiuse (known as the Moses–Columbia Band of the Colville Confederacy), Nez Perce and Yakama–Palus ancestry.[3]
Jordan attended Gonzaga Preparatory before going to the University of Washington, where she graduated. While in Seattle, she held a variety of leadership roles in community activism and became involved in local city politics, also serving as an adviser to the president of the university.[4]
After returning to the reservation, Jordan ran for and was elected to the Tribal Council. From this position, she became the co-chair of gaming for the Affiliated Tribes of Northwest Indians (ATNI), an organization founded in 1953 so that tribes could act in concert on mutual interests. She is also a Senior Executive Board representative, Finance Chair and Energy Initiative Chair for the National Indian Gaming Association, serving her third consecutive term. Jordan is the youngest member to be elected to the Tribal Council.
Idaho House of Representatives
Jordan served on the State Affairs Committee, the Business Committee and the Energy, Environment and Technology Committee. In addition, Jordan was selected for the Legislative Council, which oversees management of the Capitol and permanent staff. It is made up of the president pro tempore of the Senate, the speaker of the House of Representatives, the majority and minority leaders of each house and four senators and four representatives — two from each party.[3]
Gubernatorial Campaign
Jordan is running for governor of Idaho in 2018 against A.J. Balukoff and Troy Minton in the Democratic primary. She announced her candidacy on December 7, 2017.[5][6] On February 7, 2018, she resigned her Idaho Legislature seat to focus on running for governor.[1]
Cher Endorsement
Singer and actress Cher has endorsed former Democratic state Rep. Paulette Jordan in the race to become Idaho's next governor. Cher tweeted that she met Jordan at the Las Vegas Women's March and said Idahoans would be well served under Jordan's leadership. Cher added that Jordan is a thoughtful and intelligent woman.[7]
People for Bernie Endorsement
People for Bernie endorsed Paulette Jordan on their official Twitter account on Jan. 28, 2018.[8]
U.S. Democratic Socialists
In a Facebook post, U.S. Democratic Socialists promoted Paulette Jordan as a progressive Democrat running for the governor's office in Idaho.[9]
Anti-Trump Candidate
From The Maven:
Jordan has had more than a few words to say about President Trump who not only recently "drastically reduced the size of federally protected Bears Ears National Monument and Grand Staircase-Escalante National Monument to open them up for oil and gas drilling," but also "offended multiple tribal leaders by referring to Senator Elizabeth Warren as "Pocahontas" at a ceremony honoring the Navajo Code Talkers."
"Our president lacks humanity. He lacks respect. He lacks honor," said Jordan. "For him to disrespect World War II veterans and to be the only president to have done so in the White House is disrespectful of the White House. For him to bring in a U.S. senator, as he does, and try to slight the indigenous people of this land who have stood up for freedom and for this land for generations. I think that's the travesty. And that's what people should be thinking about."[10]
Issues
The following issue stances are listed on Paulette Jordan's candidate web site:
A LIVABLE WAGE
Idaho has the lowest minimum wage in the west, but the highest number of minimum wage jobs. Jobs that take little training, require little education, and are low paying are not sustainable in the long term. Paulette believes in investing in education to help train people for jobs that provide livable wages and opportunity for advancement into leadership positions – this is beneficial both to individuals and the state economy. Paulette will work to promote these opportunities and market them to students to keep jobs and businesses in Idaho.
EDUCATION FOR OUR FUTURE
As a mother of two sons, Paulette has seen firsthand the shortcomings and successes of Idaho's educational system. She believes that investing in public education will strengthen Idaho's economy and struggling rural areas. States with strong school systems attract businesses and industry and provide our students with a more competitive edge in a wider range of career fields.
AFFORDABLE HEALTHCARE & MEDICAID EXPANSION
Idahoans know that how we take care of one another, regardless our differing circumstances is the source of our humanity. That's why Paulette believes that affordable and accessible health care is a basic human right.
Paulette will expand Medicaid in order to help the thousands of Idahoans left in the coverage gap to get the primary care and coverage they deserve. When health care is affordable for everyone, local hospitals and communities can run more efficiently without the burden of offsetting unpaid discrepancies.
CIVIL RIGHTS FOR ALL
Paulette has zero tolerance for discrimination. She believes in justice for all, not just for some. She will make it a priority to not shy away from the topic of discrimination, and to promote legislation that ensures all people feel safe and heard.
ENERGY & TECHNOLOGICAL DEVELOPMENT
Paulette is a proponent of renewable energy for environmental and economical benefits. Clean energy technology and development is one of the fastest growing sectors in the global economy, and Idaho has the assets and resources to be on the cutting edge of the future energy industry. Idaho already utilizes geothermal water to heat buildings like the Idaho State Capitol building, and to generate electricity, but there is room for expansion and further development in wind, solar, water, and biomass production.
Paulette will provide leadership and incentivized policies to bring companies already committed to being one hundred percent reliant on renewable energy into Idaho, as well as to give ranchers and farmers opportunities to diversify what they grow on their land and to increase their incomes by developing both agriculture and energy products.
PROTECTING OUR NATURAL RESOURCES
Idahoans have always been connected to their land, and felt a responsibility to protect and maintain access to clean water and air. Paulette believes there is a balance between maintaining industry and keeping our environment healthy for continued use and enjoyment.
Paulette wants to use logging contracts to generate more jobs and income in Idaho, while saving money and timber resources with preventative fire management. Current innovation in the timber sector is burgeoning with new, sustainable building materials moving to replace steel. Production of these building materials in Idaho would add to economic growth and opportunity.
Utilizing responsible practices to keep species that are intrinsic to our ecosystem benefits all people. Paulette understands that balancing renewables usage will help us keep from ruining the environment we depend on and share.
KEEPING PUBLIC LANDS PUBLIC
Once public lands are put up for private sale, they are lost for good. Idaho's beauty attracts families, tourists, and business owners who love to hunt, fish, hike, explore and recreate. Paulette will ensure that public lands are kept public and accessible for everyone to enjoy.
TAX REFORM TO INVEST IN IDAHO
Taxes support local infrastructure and services vital to Idaho communities far and wide. Paulette will manage taxes properly and honestly, with reform that is balanced equitably across varying income levels. Paulette will focus on investment as an opportunity to help all of Idahoans prosper.
A SENSIBLE BALANCED BUDGET
Paulette believes that the state needs to pay its bills, without taking money from the services provided to the people. She will listen to the people and work with elected representatives in every district to guarantee money is being invested in areas most important to voters of Idaho.
External Links
References