Occupy Philadelphia
From KeyWiki
The Occupy Philadelphia demonstration is a part of the Occupy Movement which began on Sept. 17, 2011 with the original Occupy Wall Street demonstration in New York City.
Speakers
The following have addressed the demonstration:
Participants
The following have participated in the demonstration:
DSA support
The New York Times quoted Democratic Socialists of America vice-chair and National Political Committee member Joseph Schwartz and Young Democratic Socialists (YDS) Northeast Regional Organizer Cecily McMillan about Occupy Philadelphia and Occupy Wall Street respectively.[2]
The following DSA members have participated in the protest:
On Oct. 9, 2011, Joseph Schwartz wrote of the DSA's involvement,[3]
"DSA and YDS have been active in Occupy Philadelphia (mostly through our Temple undergraduates and grad students, which now include YDS co-chair Sean Monahan). We've had good contingents, with banners and leaflets, at the original morning of occupation of City Hall plaza and a march of about 1,000 from City Hall to the Liberty Bell yesterday.
As Jobs with Justice did some mobilizing for the march, the march itself was somewhat more multi-generational and multi-racial than the occupation itself. Remember, those with care-giving responsibility, jobs, or unemployed folks actively looking for jobs can't camp out 24/7, hence the somewhat age-specific, somewhat monochromatic nature of the permanent occupiers. That's fine—every generation has its poetry—as long as they are conscious of needing to branch out and speak to the needs of the 99 percent who can't occupy 24/7.
Anyway, DSA and YDS groups should loyally participate in the Occupy protests and reach out to healthy elements who seem interested in us, by talking to them, giving them leaflets, inviting them to our events. This is a climate in which we can strengthen the socialist movement, but we have to be visibly active to do so."
DSA arrestees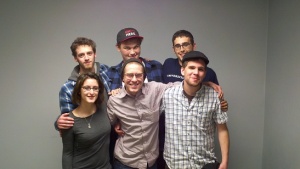 Early on Wednesday, November 30th, around 1:00 am, the Philadelphia Police Department raided Occupy Philly. Many Temple Democratic Socialists members and Temple allies rushed to City Hall to aid the occupiers. Several were "caught up in the middle of the ensuing police brutality and waves of arrests". Five TDS members were arrested along with several other comrades from allied Temple organizations and brought to jail. No Miranda rights were read, and many were in areas that the police indicated would not warrant arrests. They waited in the police vans for up to two hours before being brought to jail, where they were separated and denied phone calls. They were all released about twelve hours after arriving.
Wednesday afternoon, an ally group staged a rally and sit-in in a campus PNC bank to protest the Board of Trustee's flat-out denial to activist requests to speak to the Board about Temple and PNC's financial connections to Mountain Top Removal coal mining practices in Appalachia. While protestors sang "Solidarity Forever" and chanted outside the bank, three activists staged a sit-in inside the bank, and were removed quietly by the police after about an hour. They were sneaked out the back entrance of the bank into police cars and taken to jail. One TDS member described the following 20 hours in jail as "completely dehumanizing." Each of them was greeted by a mixture of TDS and Occupy Philly "jail solidarity" crews upon their release.
Temple Democratic Socialists arrestees were Kyle Hempe, Evan Hoskins, Danny Teichmann, Deanna Gosling, Josh Luther, Dan Ludwig.[4]
References