Occupy Oakland
From KeyWiki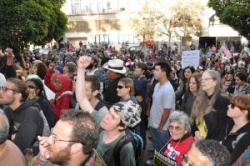 The Occupy Cleveland demonstration is a part of the Occupy Movement which began on Sept. 17, 2011 with the original Occupy Wall Street demonstration in New York City.
Affiliated Organizations
The following organizations have supported or joined with the Occupy Cleveland demonstration:[1]
Support
Legal Support
The National Lawyers Guild is serving as the arrestees' legal team.[3]
Alliance of Californians for Community Empowerment
On Nov. 19, Tanya Dennis of the Alliance of Californians for Community Empowerment (ACCE) spoke at a rally held at the downtown plaza which for over a month had housed the main Occupy Oakland camp. She told how with ACCE's help she fended off a foreclosure attempt earlier this year and won a modification of her mortgage. "So we can stand up to the banks and we can prevail!" she declared to loud applause. Dennis urged rally-goers to join in a Dec. 6 national day of action "where people are going to reoccupy homes that have been foreclosed."[4]
Occupiers "Re-Take" Plaza
An article by William West and Richard Becker published in Liberation (newspaper of the Party for Socialism and Liberation) described the demonstrator's actions during the last week of October:[5]
"Occupiers retook Oscar Grant Plaza only two days after their camp was destroyed by police. The protesters tore down a fence that the police had erected around the supposedly public space and built a tower from the fence as a monument to their resolve. Within 48 hours of the attack, two dozen tents and two canopies had been restored to the Plaza. The occupiers' first action after retaking their camp was to hold a vigil for Scott Olsen. Having become the subject of negative press over nearly killing Olsen, the Oakland Police Department is so far not interfering with the re-establishment of the camp.
Oakland Mayor Jean Quan, who helped plan the Oct. 25 attack against the encampment, attempted to address the Occupation at its General Assembly but was booed off the stage, with the Occupiers chanting "Go away!" as she attempted to speak."
Speakers
The following have addressed the protestors:
Maria Gastelumendi, "owner of an area small business who expressed her wholehearted support for the occupy movement."[4]
Dan Coffman, president of ILWU Local 21 in Longview, Wash., "thanked Occupy Oakland for its solidarity with ILWU members' struggle against the corporate-owned EGT Development."[4]
Participants
Deaths
Kayode Foster was shot in the head and died outside of the Occupy Oakland site on November 11, 2011.[6][7]
References