Moe Stavnezer
Jump to navigation
Jump to search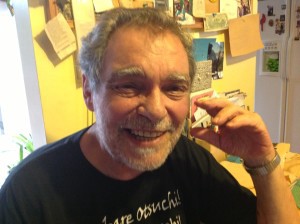 Moe Stavnezer was a "Social Justice and Environmental Champion" from California. He died on December 28 2017.
Background
From an obituary written by Marta Segura:[1]
"Today, December 28th, 2017, we lost a Social Justice and Environmental Champion. Moe Stavnezer's activism in California began as a member of the Venice Town Council and with the passage of Proposition 20 (The Coastal Act) in 1972. He appeared before the Coastal Commission numerous times as an advocate for affordable housing, coastal access, community preservation, and the protection of natural resources. For that work, in 1978, Moe was honored with an "Award of Merit" by the State of California. He was also a founder and board member of two statewide coastal organizations, PACE (People, Access, Coastal Environment) and the League for Coastal Protection that advocated for a variety of issues before the Coastal Commission and in the courts, most especially regarding the Ballona Wetlands.
"In the 1980's, Moe was a founder and board member of Heal the Bay, where he served as Vice President, and the Venice Community Housing Corporation, where he served as President. He also served on various boards of the Liberty Hill Foundation, including the Environmental Justice Board and the Board of Directors. Moe was also a founder of the Santa Monica Fair Housing Alliance, and Santa Monicans for Renters Rights which advocated for and won rent control in that city. In 1987, he was a member of the steering committee in the successful campaign to elect Ruth Galanter to the L.A. City Council. Moe has served on the Los Angeles League of Conservation Voters board for over 20 years, including five years as President and currently as Treasurer and he was one of our founders. LA is a greener city because of Moe and he will be missed by many leaders, elected officials and community advocates who worked with him to create a better planet. Los Angeles has changed for the better and greener because of you and we will miss you Moe!"
North Beach Planning Task Force
From an article about Moe Stavnezer written by Arnold Springer:[2]
"Moe was instrumental, along with Lance Diskan, Jim Bickhart and myself (Arnold Springer) in creating the North Beach Planning Task Force (about 1972), an alliance of small holders and Venice activists who were associated with the Beachhead, the Venice Town Council, and an amorphous group called 'Free Venice (Steve Claire, Bob Wells, Rick Davidson, Barbara Avedon, and others) who focused on trying to stop the re-development and gentrification of the North Beach area of Venice by actively working within the public planning process of the City of Los Angeles to set and hold to standards which restricted such redevelopment and also extensively and incessantly used the Coastal Act of 1976 and appeals to the Coastal Commission to stop the juggernaught of over-development. This North Beach Planning Task Force was very successful and soon became the chief vehicle which the Venice Town Council (pre-cursor of the Venice Neighborhood Council) used to hold off gentrification and over-development all over Venice.
"This Venice political alliance was very successful between 1976 and 1990 in 'keeping Venice Venice' and for about 15 years we all worked shoulder to shoulder to make this happen. In the end however this effort proved unable to hold back the tide and energetic vitality of real estate speculation (the lure of 'filthy lucre') particularly in the coastal zone of the westside.
"Moe of course was also a big time environmentalist and well known among environmental activists in Southern California, and a big time supporter of rent control (I was not one of those people) but I will leave it to others to paint that picture of Moe and flesh it out. Moe is now gone, but he will not be forgotten. When Jim Smith finishes his work on Venice (focused on 'gentrification' I hear), Moe will certainly occupy an important place."
"Westside Friends of Jackie Goldberg"
Signatories to a letter from Westside Friends of Jackie Goldberg, dated January 15, 1993 were;
References