Marian Kramer
From KeyWiki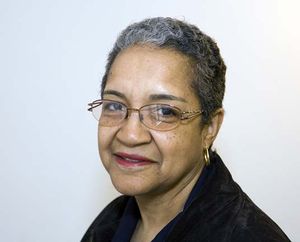 Marian Kramer has been at the forefront of the struggle of the poor, and a leader in the fight to stop the privatization of water in Detroit, Michigan. She has been the front lines of the welfare rights and civil rights movement from its origin in the 1960s. Kramer serves as the Co-chair of the National Welfare Rights Union.[1]
Revolutionary Union Movement
In 1968 and 1969, former Wayne State students such as General Baker, Marian Kramer, Ken Cockrel, Ken Hamblin, Luke Tripp, Charles Johnson, and others organized the Revolutionary Union Movement in Detroit's auto plants, which culminated in the League of Revolutionary Black Workers. Some of the organizers who split from the League joined former SNCC leader James Forman and founded the Black Workers Congress.[2]
Malcolm X conference
A conference, Malcolm X: Radical Tradition and a Legacy of Struggle was held in New York City, November 14 1990.
The "Black Women and Black Liberation: Fighting Oppression and Building Unity" panel consisted of;
Chairperson:
Panel:
Black Radical Congress
In March 1998 "Endorsers of the Call" to found a Black Radical Congress included Marian Kramer, National Welfare Rights Union[3].
National Welfare Rights Union
As at October 5, 2008, Kramer served as Co-chair on the board of the National Welfare Rights Union.[4]
References