Main Page
Jump to navigation
Jump to search
The printable version is no longer supported and may have rendering errors. Please update your browser bookmarks and please use the default browser print function instead.
Unlocking the covert side of U.S. and Global politics.

KeyWiki

has

152,827

articles and counting.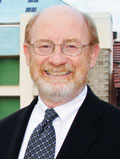 John Laird was appointed by Governor Jerry Brown in January 2011 as California Secretary of Natural Resources. A lifelong socialist, Laird is effectively California's "Environment Czar."
John Laird graduated with honors in politics from the University of California Santa Cruz in 1972. He then served on the district staff of U.S. Representative Jerome Waldie and as a budget analyst for the Santa Cruz County Administrator.
In 1981, Laird was elected to the Santa Cruz City Council and served nine years until term limits ended his council service in 1990. He was a two-term mayor from 1983 to 1984 and from 1987 to 1988.
In 2002, Laird was elected to represent the 27th Assembly District in the California Assembly, which includes portions of Santa Cruz, Monterey and Santa Clara Counties. He was re-elected in 2004 and again in 2006 when he received more than 70 percent of the vote. At the beginning of his second term, Laird joined the Assembly leadership team when Assembly Speaker Fabian Nunez named him chair of the Budget Committee, a position to which he was reappointed by Assembly Speaker Karen Bass in 2008.
While serving the maximum three terms in the Assembly, Laird authored 82 bills that were signed into law. These bills established the landmark Sierra Nevada Conservancy, restored community college health services, expanded and clarified state civil rights protections, reformed the state mandates system, and significantly expanded water conservation.
Continuing his public service as California's Secretary of Natural Resources, Laird has made climate change adaptation, water conservation and supply reliability, enhanced relationships with tribal governments, state parks access, farmland conservation, and oceans sustainability among other issues top priorities. As secretary, he provides administrative oversight to thirty departments, commissions, councils, museum boards and conservancies – and is a sitting member of sixteen conservancies, councils, boards and commissions within the purview of the agency.
John Laird and Mardi Wormhoudt were both members of the Democratic Socialist Organizing Committee - the forerunner of Democratic Socialists of America, in Santa Cruz in the late 1970s. They joined with two members of the socialist New American Movement: Mike Rotkin and Bruce Van Allen, to take over Santa Cruz City Council in the early 1980s.
In 1981, Laird received the most votes in a field of eight to be elected to a seat on the Santa Cruz City Council. He was re-elected as top vote-getter in 1985, serving until term limits ended his council service in 1990. He was elected by the City Council to one-year mayor's terms in 1983-84 and 1987-88,­ and was one of the first openly gay mayors in the United States upon his first election in 1983.
The downtown growth coalition pulled out every stop in an effort to defeat Wormhoudt and Laird. They talked about the dangers of socialism, although neither of these two candidates talked about socialism, and they used old scare tactics about outside agitators that turned out not to work any longer. They spent a fortune on advertising. But Laird and Wormhoudt won, and Santa Cruz has been governed by people of their political leanings ever since.
John Laird has worked in every aspect of Democratic Party politics as a six-time delegate to Democratic national conventions, a twenty-five-year member of the state Democratic Central Committee, an Electoral College member from California in 1992, 1996 and 2000, chair of both county-wide Democratic campaigns and the County Democratic Committee (1994-98), President of the Peoples Democratic Club, and an active campaign committee member in the first congressional campaign of Leon Panetta - later CIA chief under Barack Obama.
In the 1980s John Laird worked with Congressman Leon Panetta and U.S. Senator Pete Wilson to "protect California's coastal environment and economy from offshore oil drilling proposals."
(
John Laird|more...
)
Browse the knowledge base
Learn more about highly influential left organizations and people...
KeyWiki Research
Please suggest people, groups or other subjects on which research would be beneficial. The Team at KeyWiki are also available to engage in commissioned research. Please
contact us
for more information.
Recent Posts from the New Zeal Blog
Error: Must specify an image in the first line.
Provide information, documents, inside knowledge...
We welcome tip-offs from ex-socialists as well as those still working inside the system. This inside knowledge is valuable in exposing the covert side of politics.
To anonymously provide information or share knowledge, please
click here
.
KeyWiki relies on your support for our ongoing research efforts.
Please contribute
to our valuable research.