Difference between revisions of "Lynn Woolsey"
From KeyWiki
Line 9:
Line 9:
 

In September 1999, Lynn Woolsey co - sponsored  a fund raising event for the [[Communist Party USA]] newspaper [[Peoples Weekly World]]. Rep. [[Barbara Lee ]] co-sponsored  the same event.<ref>Peoples Weekly World, September 11, 1999</ref>

 

In September 1999, Lynn Woolsey co - sponsored  a fund raising event for the [[Communist Party USA]] newspaper [[Peoples Weekly World]]. Rep. [[Barbara Lee ]] co-sponsored  the same event.<ref>Peoples Weekly World, September 11, 1999</ref>

 

[[Category:Communist Party USA]]

 

[[Category:Communist Party USA]]

 
+
 
+
 
+
 
+
 
+
 
+
 
+
 
+
 
+
 
+
 
+
 
 
 

==Peace activism==

 

==Peace activism==
---
Revision as of 02:53, 27 July 2011

Lynn Woolsey is a Democratic member of the United States House of Representatives, representing the 6th district of California. She is also a co-chair of the Congressional Progressive Caucus.
Woolsey is the "first former welfare mother to serve in Congress." Since entering the House in 1993, she has been an advocate for children and families. As chair of the Workforce Protections Subcommittee, she oversees policies affecting millions of American workers. The San Jose Mercury News called her "the unofficial matriarch of the [anti-war] movement." A member of the House International Relations Committee, she introduced the first resolution calling for troops to come home from Iraq and convened the first congressional hearing on military exit strategies. She calls for a complete re-evaluation of U.S. national security policy, emphasizing stronger global alliances and intelligence capabilities. She is an advocate of conservation and clean, renewable energy sources.
Endorsed Communist Party event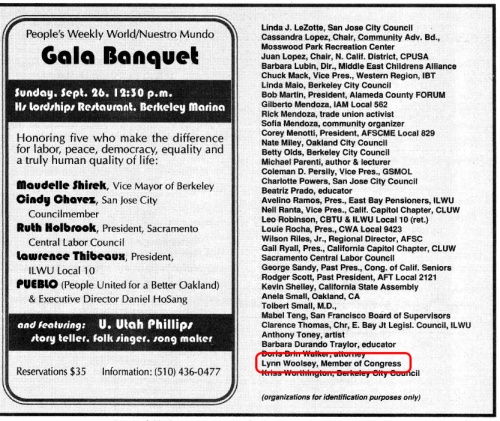 In September 1999, Lynn Woolsey co - sponsored a fund raising event for the Communist Party USA newspaper Peoples Weekly World. Rep. Barbara Lee co-sponsored the same event.[1]
DSA supported Vaccines Compensation Bill
Democratic Socialists of America backed Dennis Kucinich nationally with his 2002 HR2459 Vaccines Compensation bill.
Lynn Woolsey and Barbara Lee both co-sponsored Kucinich's Kill
According to the minutes of a January 5, 2002 SF DSA Steering Committee meeting;[2]
According to a (fundraising) call from DSA, supporting HR2459 is a national DSA project. The idea is to contact representatives about co-sponsoring the bill, which comes from Dennis Kucinich and is supported by the progressive caucus. Everyone said they would contact their rep (neither Pelosi nor Lantos has signed on; Woolsey and Lee are co-sponsors).
This led to the question of the best way to contact Congress post anthrax scare. The feeling was regular mail might not get through, and probably a phone call would have the greatest impact. e-mail is another option.
Peace activism
In July 2006 Woolsey addressed[3] the Peace Action National Congress at Wayne State University, with Rep. John Conyers (D-MI) and activist Tom Hayden.
Sheinbaum fund raiser
Congresswoman Lynn Woolsey, the first Member of Congress to call on the President to bring our troops home, was be in Los Angeles on Saturday February 4th 2006, for a 'very exciting but critical fundraiser against the most well-known, well-financed challenger she's ever faced". woolsey was facing a primary challenge from a termed-out Assemblyman Joe Nation, a moderate Democrat who has been critical of her stand on the war and on bringing home our troops. He is raising money from people who have given money to Tom DeLay and Bush-Cheney and his legislative district covers 60+% of Congresswoman Woolsey's district. Congresswoman Woolsey is a "champion of equal rights, civil liberties, protecting the environment and fighting for single payer healthcare. Congresswoman Woolsey must be re-elected by the same victory margin she has had in the past to send a message to progressives everywhere that's it IS OK to be courageous, and to not back down on issues that matter."
The Host Committee for this fundraiser includes:
Ben Affleck; Ed Asner; Warren Beatty; Jodie Evans; James Cromwell; Matt Damon; Tom Hayden; Wendy Herzog; Mimi Kennedy; Norman Lear; Stephen Rohde; Susie Shannon; Stanley Sheinbaum & Betty Sheinbaum; Lorraine Sheinberg; Kathy Spillar; Gloria A. Totten; Peg Yorkin; Senator Barbara Boxer; Congressman Joe Baca; Congressman Xavier Becerra; Congresswoman Lois Capps; Congresswoman Jane Harman; Congresswoman Juanita Millender-McDonald; Congresswoman Grace Napolitano; Congresswoman; Lucille Roybal-Allard; Congresswoman Linda Sanchez; Congresswoman Loretta Sanchez; Congressman Adam Schiff; Congresswoman Hilda Solis; Congresswoman Maxine Waters; Congresswoman Diane Watson; Senator Sheila Kuehl and Assemblywoman Karen Bass.
The fundraiser was at the Stanley & Betty Sheinbaum residence in Brentwood. Both Sheinbaums have been members of Democratic Socialists of America.[4]
Progressive Democrats of America
Lynn Woolsey serves on the Advisory Board[5] of Progressive Democrats of America.
Congressional Progressive Caucus
In 1998 Lynn Woolsey Democrat was listed as a member of the Congressional Progressive Caucus.[6]
On November 19 2008 the Congressional Progressive Caucus announced[7]its elected leadership for the 111th Congress.
As of February 20 2009 Lynn Woolsey was listed as Co-Chair[8]of the Congressional Progressive Caucus.
Supported by Council for a Livable World
The Council for a Livable World, founded in 1962 by long-time socialist activist and alleged Soviet agent, Leo Szilard, is a non-profit advocacy organization that seeks to "reduce the danger of nuclear weapons and increase national security", primarily through supporting progressive, congressional candidates who support their policies. The Council supported Lynn Woolsey in his successful House of Representatives run as candidate for California.[9]
Anti-war activism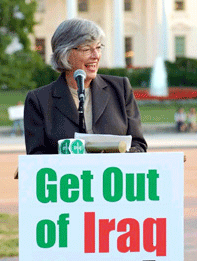 EMILY's List
Woolsey has been supported by EMILY's List during her campaigning.
Supported Lifting the Gaza Blockade
On Jan. 27, 2010, U.S. Representatives Keith Ellison and Jim McDermott led 52 other members of Congress in signing a letter addressed to President Barack Obama, calling for him to use diplomatic pressure to resolve the blockade affecting Gaza. Lynn Woolsey was one of the signatories of the letter. [10] The entire letter together with a complete list of signatories can be read by clicking here.
Campaign to Make Immigration Reform a Top Issue in 2010
On October 13 2010 , immigration activists from around the country gathered to join in a vigil and rally in front of the U.S. Capitol in Washington, DC., where Congressman Luis V. Gutierrez and other elected officials launched a new push for comprehensive immigration reform, building to the opening months of 2010. their banners read "Reform Immigration FOR Families" and "Family Unity Cannot Wait."
More than 750 people traveled to Washington on buses from up and down the Eastern seaboard and as far away as Texas, Florida, Ohio, Minnesota, and Michigan. They spent Tuesday morning meeting with Congressional offices before being joined by thousands of people from the D.C., Maryland, and Virginia area, who gathered on the grounds of the U.S. Capitol to listen to testimonies from families, veterans, and children who face family disintegration because of immigration laws and deportation.
Religious leaders from a diverse array of faith traditions around the country, some organized through Familias Unidas, added their voices.
At the event Congressman Gutierrez outlined a set of principles for progressive immigration reform that needs to include a rational and humane approach to legalize the undocumented population, to protect workers' rights, to allocate sufficient visas, to establish a smarter and more humane border enforcement policy, to promote integration of immigrant communities, to include the DREAM Act and AgJOBS bills, to protect rights guaranteed by the Constitution, and to keep families together.
The lawmakers who joined Rep. Gutierrez on stage, and addressed the gathering included Sen. Robert Menendez (D-NJ), Congressional Hispanic Caucus Chairwoman Rep. Nydia Velazquez (D-NY), Congressional Asian Pacific American Caucus Chairman Rep. Michael Honda (D-CA), Congressional Progressive Caucus Chairs Raúl M. Grijalva (D-AZ) and Lynn Woolsey (D-CA), Congressional Black Caucus Member, Yvette Clarke (D-NY), Democratic Caucus Vice Chair Xavier Becerra (D-CA), Jared Polis (D-CO), Jan Schakowsky (D-IL), Michael Quigley (D-IL), and Delegate Gregorio Sablan (Northern Mariana Islands).[11]
Staff
The following have worked as staff members for Lynn Woolsey:[12]
External links
References