Jesse Napier
From KeyWiki
Jesse Napier is a Florida activist.
2016 election gathering
How likely is a Trump win? What would a Trump presidency look like? What's at stake for working people across America if an extreme right-winger like him is allowed to take the highest office in the land? These questions and more were discussed in a meeting of Florida activists at a retreat hosted by the Communist Party USA from May 13 through May 15.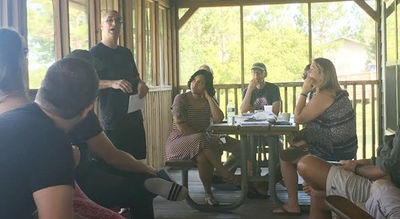 A wide range of people participated in the meeting. They work in a variety of jobs and are active on various issues ranging from mental health advocacy to women's reproductive rights. The retreat was led by Communist Party national chair John Bachtell, who opened the discussion with a survey of the group. He asked for people to answer, by show of hands, what they would do if Clinton was to become the Democratic presidential nominee.
Retired school teacher and Tampa resident John Streater pointed out the issue of racism when it comes to Donald Trump. Participant Jesse Napier, a mental health advocate and member of the band Whiskey Faithful (which describes its music as "proletarian punk rock"), labeled Trump a "fascist."
Participant Yennifer Mateo spoke about Trump's deportation threats aimed at undocumented people. "As an immigrant woman, I fear for the safety of myself, my family, and other immigrants," Mateo said.
One person argued that, given her political past, it would be hard to trust Clinton, let alone convince others to believe she would be any better than a Republican president. Participant Jessi Dover's response to this sentiment was that, "She [Hillary] is a Democrat and she's not Trump. If you don't vote for Clinton, you're voting for Trump."
Also in attendance were Eugene Charles Blum IV of Orlando, and Gregory Williams of Miami.[1]
References