Jacqueline Berrien
From KeyWiki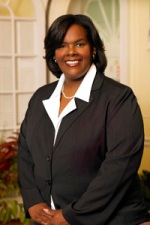 Jacqueline Ann Berrien is the Obama nominee to chair the Equal Employment Opportunity Commission (EEOC)[1].
The Civil Rights Act of 1964 created the EEOC to combat employment discrimination. It investigates and prosecutes employment discrimination complaints based on a person's race, color, national origin, religion, gender, age, disability and as well as complaints of retaliation for reporting or opposing discriminatory practices and policies. It also coordinates all of the federal government's equal opportunity programs.
Education
Ms. Berrien is a graduate of Harvard Law School, where she served as a General Editor of the Harvard Civil Rights-Civil Liberties Law Review. She received her Bachelor of Arts degree with High Honors in Government from Oberlin College and also completed a major in English[2].
Berrien received the Muhammad Kenyatta Young Alumni Award from the Harvard Black Law Students Association in 1993, and was designated a Wasserstein Public Interest Law Fellow in 1991[3].
Early legal career
Berrien has also taught in trial advocacy programs at Fordham and Harvard law schools and served on the adjunct faculty of New York Law School, where she taught a course entitled Blacks and American Law. She began her legal career clerking for the Honorable U.W. Clemon, the first African-American appointed to the U.S. District Court in Birmingham, Alabama[4].
Writing
Berrien has published several articles on race and gender discrimination issues, including A Civil Liberties Imperative: Promoting Quality Education for All African-American Children, 94 COLUMBIA TEACHERS COLLEGE RECORD 4 (Summer 1993) and Pregnancy and Drug Use: The Dangerous and Unequal Use of Punitive Measures, 2 YALE JOURNAL OF LAW AND FEMINISM 2 (Spring 1990)[5].
ACLU/LCCR work
From 1987 and 1994, Berrien worked as an attorney with the Voting Rights Project of the Lawyers Committee for Civil Rights in Washington, D.C., and with the National Legal Department and Women's Rights Project of the American Civil Liberties Union in New York[6].
ACORN v. Fowler
In 1995 Bacqueline Berrien was involved in the ACORN v. Fowler case.
95-0614 (E.D. La. filed Feb. 22, 1995) ; Clearinghouse Number: 50532 Description
Low-Income Residents Challenge Louisiana's Failure to Implement the Motor Voter Law
Abstract
Plaintiffs, a nonprofit organization and low-income residents, have filed this class action challenging defendant Louisiana's failure to implement the 1993 National Voter Registration Act, 42 U.S.C. §§ 1973 et seq., popularly known as the "motor voter law." The Act requires states to provide, inter alia, streamlined and simplified voter registration opportunities for federal elections through the mail, at certain designated agencies, and simultaneously with application for a state motor vehicle driver's license without requiring duplicate information. The Act also mandates states to maintain through uniform and nondiscriminatory procedures an accurate voter registration roll, to follow certain procedures before an individual's registration may be canceled, and to allow persons who have moved to continue to vote under certain circumstances, by the effective date of January 1, 1995. Plaintiffs allege that Louisiana has not put in place any of the procedures required by the Act by the deadline. Plaintiffs contend that the state's plans for implementation are inadequate because the forms for motor vehicle offices require duplicative information. Plaintiffs assert that the procedures for food stamp and AFDC offices do not follow the Act's mandate that mail registration forms be made available at these offices and that recipients be assisted with registration unless they decline such assistance. Plaintiffs also contend that no plan exists for voter registration at mental health offices and offices for the aging and that the mail registration form requires more information than the state needs to assess voter eligibility. Plaintiffs seek injunctive and declaratory relief, costs, and attorney fees.

Plaintiffs were represented by Charles Delbaum, Martha Kegel, New Orleans Legal Assistance Corp., 144 Elk Pl., New Orleans, William Quigley, Neil Bradley, Elaine Jones, Theodore Shaw, Jacqueline Berrien[7].
LDF
After leaving theLCCR and ACLU Ms. Berrien was an Assistant Counsel with LDF and directed the Fund's voting rights and political participation work[8].
She represented African-American voters in proceedings before the U.S. Supreme Court, the U.S. Courts of Appeals, and the U.S. District Courts[9].
Ford Foundation
Berrien served from 2001 to 2004 as a Program Officer in the Ford Foundation's Peace and Social Justice Program, where she administered more than $13 million of grants to promote "greater political participation by underrepresented groups, particularly people of color, women, and youth[10]."
NAACP
Berrien has served as Associate Director-Counsel of the NAACP Legal Defense and Educational Fund (LDF) since September 2004. In that position, she assists with the direction and implementation of LDF's national legal advocacy and scholarship program[11]s.
Voting rights renewal
At the May 2005 Coalition of Black Trade Unionists confrence in Phoenix Arizona, Berrien and colleague Debo Adegbile made the case for "voting rights renewal"[12];
In 2007, elements of the Voting Rights Act of 1965 will come up for renewal by Congress. Most important is the pre-clearance provision, Section 5, which requires that jurisdictions covered by the Act submit any changes in voting procedures for review by the U.S. Justice Department. In one of many CBTU workshops, Debo Adegbile and Jacqueline Berrien, of the NAACP Legal Defense and Education Fund (LDF), explained that pre-clearance puts the burden on the state. "The government is forced to turn the lights on. It makes the jurisdiction come forward and show that it is not discriminating," said Adegbile.
Opponents of Voting Rights renewal will point to Black electoral successes as proof that the legislation has outlived its usefulness. "They say, 'We now have 43 Blacks in the Congress. Why do we need the Voting Rights Act?'" said Adegbile, reminding the room that Blacks were represented in Congress during Reconstruction, too, but were later made to disappear.
"Reverse discrimination" is the war whoop on every right-winger's lips. "Any law that helps Black people," said the LDF's Berrien, "has been challenged in the last decade or two, as hurting white people."
Obama appointment
In July 2009 Jacqueline Berrien was nominated[13]by the Obama administration for the position of Chairman in the EEOC.
PIRE former Advisory Board Members
Philanthropic Initiative for Racial Equity, former Advisory Board members since launch in 2003:
References