Gregory Cendana
From KeyWiki

Gregory A. Cendana is the Executive Director, Asian Pacific American Labor Alliance. Founded in 1992, APALA is the first and only national organization of Asian Pacific American union members. Over 600,000 APA workers have joined unions and are seeking better pay, improved benefits, dignity on the job, and a voice in the workplace. Most recently, he served the President of the United States Student Association and was the first openly gay Asian American to serve in that post. USSA is the country's oldest, largest & most inclusive student organization in the country and is the official voice of students to the Department of Education, Capitol Hill & the White House.
Education/activism
Cendana graduated from with honors from UCLA where he was Student Body Vice President, Campus Organizing Director for the University of California Student Association, a member of the Executive Board of Samahang Pilipino at UCLA and a co-founder of the Student Activist Project, developing students to work with campus and community organizations. Additionally, he worked with AFSCME 3299 to build stronger student and worker solidarity, organized service workers in the dining halls and was a part of a campaign to unionize part time student workers.
Cendana also started his own consulting firm to support the next generation of youth of color & LGBT youth leaders and organizations working with these communities. He is a graduate of the Rockwood Leadership Institute, the Management Center's Managing to Change the World & Wellstone Action's Political Training Program. In his spare time, he enjoys his role as a national board member for the United States Student Association Foundation and the National Youth Advocacy Coalition.
He is an Advisory board member for Asian Pacific Americans for Progress.[1]
USSA
Greg Cendana was President of the United States Student Association, 2009/2010.
Jobs with Justice
In 2009 Gregory Cendana served as a Board Member for Jobs with Justice[2]. US Student Association
America's Future Now! 2010
Endorsed radical manual
In 2011, Heather Booth, Rep. Jan Schakowsky and Gregory Cendana all endorsed an updated edition of "Organizing for Social Change :Midwest Academy Manual for Activists, by Kim Bobo, Jackie Kendall and Steve Max.
Cendana wrote; "in the hands of young organizers, this book has helped build strategic campaigns, provide best practices and develop the next generation of leaders".
Asian Pacific American workers' rights hearings
2009 Asian Pacific American Labor Alliance hearing
On November 13, 2009, Asian Pacific American Labor Alliance convened the first National Asian Pacific American Worker's Rights Hearing, a historic gathering of over 200 APA trade unionists and community allies. The hearing was convened in the Samuel Gompers room of the AFL-CIO headquarters in Washington D.C. APAs nationwide spoke about challenges they faced in exercising their right to organize including employer intimidation, immigrant worker exploitation, health and safety violations, wage theft and union suppression – while also highlighting the strategies that individual workers and unions have developed in the fight for worker solidarity and economic justice
These worker testimonies, policy solutions, and additional research were presented in APALA's groundbreaking report, Breaking Ground, Breaking Silence, which was published in 2010.
Over 200 people from across the country attended this historic hearing.
The hearing was co-convened by APALA and the AFL-CIO, in partnership with over 20 national and local organizations, to provide the first national platform for APA workers focused on the right to organize and the rights of immigrant workers.
Hearing panelists included:[3]
2011 hearing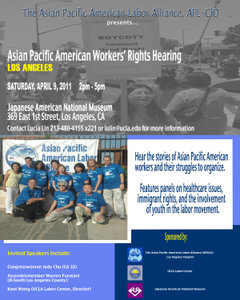 Saturday, April 9th, 2011, at the Japanese American National Museum, 369 East 1st St., Los Angeles, the Asian Pacific American Labor Alliance held a hearing on the the stories and testimonies of Asian Pacific American workers and their struggles to organize. Features panels on healthcare, immigrant rights, and the involvement of youth in the labor movement. The event included performances by Progressive Taiko and KIWA's Cultural Resistance Committee drumming group.[4]
Speakers were;
Gregory Cendana (APALA, Executive Director)
PowerPac+ Board of Directors
PowerPAC+ Board of Directors, as of 2014 included Gregory Cendana - Washington, DC Executive Director of Asian Pacific American Labor Alliance at AFL-CIO.[5]
Founders and Staff
Inclusv Founders and Staff.
References