Grace Lee Boggs
From KeyWiki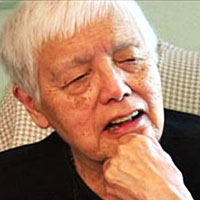 Grace Lee Boggs is a Michigan based writer and lifelong activist whose career spans more than 60 years. She is the author of Revolution and Evolution in the Twentieth Century (with her husband James Boggs), Women and the Movement to Build a New America and Living for Change: An Autobiography[1].
Background
Born in Providence, Rhode Island of Chinese immigrant parents in 1915, Boggs was educated in philosophy at Barnard and Bryn Mawr. In the 1940s, she worked with the West Indian Marxist C.L.R. James. After being involved in the successful 1941 March on Washington movement to demand jobs for blacks in defense plants, she decided to commit herself to movement building in the black community. This led her to Detroit in 1953, where she assisted in the publication of Correspondence, a newsletter written and edited by blacks, workers, women, and youth. Through Correspondence she met and married James Boggs, and for 40 years was his partner in the burgeoning Black Power and Rebuilding Detroit movements. Among their many accomplishments was the founding of Detroit Summer, a multicultural youth program designed to revitalize Detroit from the ground up. They also co-authored the book "Revolution and Evolution in the Twentieth Century."
After James' death, friends established the James and Grace Lee Boggs Center to Nurture Community Leadership which continues the couple's legacy of helping community members develop into visionary leaders and critical thinkers.
In her later years, Boggs maintained an active speaking schedule, wrote a weekly column for the progressive Michigan Citizen newspaper, and penned an autobiography called "Living for Change." [2]
Serve the People Conference on Asian American Community Activism
The 1998 Serve the People Conference on Asian American Community Activism featured a mix of roundtable discussions, designed to provoke thought and debate on "large" questions facing all activists, and workshops and panels designed for activists in similar areas of work to open lines of communication with one another and to share lessons garnered through struggle. The choice of speakers was based primarily on their grassroots community work but also on concerns to have diverse geographic, ethnic, gender, and generational representation. A highlight of the conference was the opening panel on "Interracial Unity and the Struggle for Liberation," in which longtime, history-making activists Grace Lee Boggs and Yuri Kochiyama espoused upon why they have remained committed to revolutionary politics for decades.
With years of dedication to the Black Freedom Movement, both Boggs and Kochiyama served as living examples of the importance of unity among people of color. Boggs shared theoretical and practical insights from her highly praised autobiography Living for Change, which was a popular seller at the conference. Kochiyama brought the capacity crowd to its feet with her impassioned call to "Serve the people at the bottom... the people at the top don't need your help!" They were joined by local activists Leon Watson and Bill Gallegos, veterans of the African American and Chicano movements, respectively. This inspirational opening plenary served to impart a radical tone to the proceedings and to bring out the best in participants, allowing the conference to maintain a pleasantly non-sectarian atmosphere throughout. The next morning, veteran activists of numerous since-dissolved cadre organizations engaged in a friendly yet critical conversation on the legacy of the Asian American Movement with some admittedly having not made contact with one another for upwards of 25 years. Overall, "Serve the People" provided an opportunity to interact with some of the most prominet community activists from around the country including Anannya Bhattacharjee of New York's Workers Awaaz, Debbie Wei of Philadelphia's Asian Americans United, Eric Mar of the Bay Area's Asian Pacific Islanders for Community Empowerment, Jane Bai of New York's Committee Against Anti-Asian Violence, Joe Navidad of BAYAN-International, Kent Wong of the Asian Pacific American Labor Alliance, Meizhu Lui of Boston's Health Care for All, Miriam Ching Louie of Berkeley's Women of Color Resource Center.[3]
Monthly Review celebration
On September 17, 2009, U.S. socialist magazine Monthly Review celebrated its 60th anniversary at the New York Society for Ethical Culture in New York City. Five-hundred enthusiastic supporters gathered to hear remarks by Robert McChesney, Grace Lee Boggs, John Bellamy Foster, Fred Magdoff, Rev. Jeremiah Wright, Michael Tigar and hear music by Toshi Reagon[4].
"Meltdown and Recovery in Detroit: The Economic Collapse and a People's Plan for Recovery"
On May 23, 2009, together with The Nation magazine and other organizations, the Institute for Policy Studies helped convene a panel discussion on the effects of the economic crisis in Detroit. "Meltdown and Recovery in Detroit: The Economic Collapse and a People's Plan for Recovery" was an historic gathering of local Detroit activists and national progressive leaders, all offering their perspectives on what caused the economic crisis, how it was affecting Detroit, and what changes need to be made to recover from it.
Moderated by John Nichols and with Congressman John Conyers as keynote speaker, the panel featured Barbara Ehrenreich, Robert Pollin, Grace Lee Boggs, JoAnn Watson, Elena Herrada, and Dianne Feeley.[5]
CPA 40th anniversary
On August 4th 2012 to celebrate Chinese Progressive Association (San Francisco)'s 40th Anniversary. CPA was proud to honor the National Guestworkers Alliance and New Orleans Workers Center for Racial Justice, the Free MUNI for Youth Coalition, and Jobs with Justice San Francisco.
Host Committee:
Rolland Lowe and Kathy Lowe • Grace Lee Boggs • Josue Arguelles • Supervisor John Avalos • Angelica Cabande • Supervisor David Campos • Mike Casey • Supervisor David Chiu • Antonio Diaz • Reverend Norman Fong • Conny Ford • Maria Guillen • Alicia Garza • Roger Kim • Supervisor Jane Kim • Helen Kim • Jee Kim • Mario Lugay • Supervisor Eric Mar • Gordon Mar • Alisa Messer • Luke Newton • Supervisor Christina Olague • Vincent Pan • Tim Paulson • Ai-jen Poo • Raquel Redondiez • Peggy Saika • Shiree Teng • Makani Themba-Nixon • Helena Wong • Miya Yoshitani[6]
Film screening protest
BDS South Africa May 13, 2014 ·
DANNY GLOVER & OTHERS BACK CULTURAL BOYCOTT OF ISRAEL - Film Actor Danny Glover & Others Back The Cultural Boycott of Israel and Object to Israeli Film Screening
Hollywood star Danny Glover, philosopher Grace Lee Boggs and ten others have released a public statement backing the cultural boycott of Israel and denouncing the inclusion of the film that they appear in "American Revolutionary: the Evolution of Grace Lee Boggs" in an Israeli government-sponsored film festival.
"We stand in solidarity with the people of Palestine, and support their call for cultural and academic boycott of Israel," Glover and others say in a statement sent to the online news publication, The Electronic Intifada . The statement is co-signed with ten other individuals involved with the award-winning documentary that focuses on the life and work of the 98-year-old Boggs.
References