Eric Massa
From KeyWiki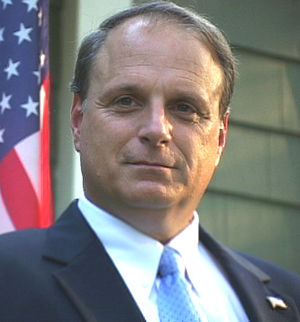 Eric Massa was a Democratic member of the United States House of Representatives, representing the 29th district of New York.
DSA support
Eric Massa was supported by Democratic Socialists of America in 2006 and 2008 and by Progressive Democrats of America in 2008. According to Ithaca DSA member Theresa Alt;[1]
In Ithaca, New York, Theresa Alt reports that DSA and single-payer activists had first supported Eric Massa when he barely lost his first bid for Congress in 2006. In addition to being an advocate of single payer health care, Massa is a retired career Navy officer who wants to get out of Iraq and supports fair trade. This year a coalition of DSA, single-payer backers, PDA, and the peace movement mobilized early in the campaign, helping raise funds at a key point. "We are delighted to announce that he won by a little over 5,000 votes," says Alt.
Congressional Progressive Caucus
As of February 20 2009 Eric Massa was listed as a member of the Congressional Progressive Caucus.[2]
Sandinista mayor
In October of 2009, the new mayor of El Sauce, Rosita Valle Vargas of the FSLN (Frente Sandinista) visited Rochester. She was the third consecutive El Sauce mayor to visit here; all of them through the generous assistance of the Paul Wenger Fund for Peace Through International Understanding of the First Unitarian Church.
Mayor Rosita Valle Vargas had a busy schedule in Rochester and Western New York, which included talks to solidarity groups (ROCLA, Ciudad Hermana, the Rochester Labor Council and the Buffalo Latin America Solidarity Committee) political advocacy (meetings with Eric Massa's staff, Louise Slaughter's staff and Mayor Robert Duffy).[3]
Planned Parenthood
Massa received $3000 in lobbying funds from Planned Parenthood in 2008.
Supported by Council for a Livable World
The Council for a Livable World, founded in 1962 by long-time socialist activist and alleged Soviet agent, Leo Szilard, is a non-profit advocacy organization that seeks to "reduce the danger of nuclear weapons and increase national security", primarily through supporting progressive, congressional candidates who support their policies. The Council supported Eric Massa in his successful 2008 House of Representatives run as candidate for New York.[4] He has also been previously supported by the Council.[5]
J Sreet endorsement
In 2008 Massa was one of several successful newcomers endorsed by JStreet PAC.[6]
Supported Lifting the Gaza Blockade
On Jan. 27, 2010, U.S. Representatives Keith Ellison and Jim McDermott led 52 other members of Congress in signing a letter addressed to President Barack Obama, calling for him to use diplomatic pressure to resolve the blockade affecting Gaza. Eric Massa was one of the signatories of the letter. [7] The entire letter together with a complete list of signatories can be read by clicking here.
External links
References