Ellen Tauscher
From KeyWiki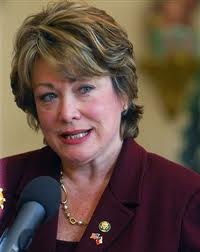 Ellen O'Kane Tauscher is a former U.S. House of Representatives member from California and current Undersecretary for Arms Control and International Security Affairs with the Department of State.
On June 27, 2009, Ellen Tauscher was sworn-in as Under Secretary of State for Arms Control and International Security.
Under Secretary Tauscher previously had represented California's 10th Congressional District for 13 years in the U.S. House of Representatives. The district includes San Francisco's suburbs in Contra Costa, Alameda Solano, and Sacramento counties. She was the only member of Congress to have two national defense laboratories, Lawrence Livermore and Sandia California, in her district. The district also includes Camp Parks Army Reserve facility and Travis Air Force Base, home of the 60th Air Mobility Wing.
She chaired the House Armed Services Subcommittee on Strategic Forces since 2007 and she was a senior member of the House Committee on Transportation and Infrastructure. She also chaired the New Democrat Coalition, a group of more than 60 centrist House Democrats.[1]
Background
Ellen O'Kane's parents were Newark, New Jersey, labor union officials.
Before winning a seat in Congress, Under Secretary Tauscher spent 14 years working on Wall Street. She was one of the first women to hold a seat on the New York Stock Exchange and later served as an officer of the American Stock Exchange.
Under Secretary Tauscher graduated from Seton Hall University.[2]
Supported by Council for a Livable World
The Council for a Livable World, founded in 1962 by long-time socialist activist and alleged Soviet agent, Leo Szilard, is a non-profit advocacy organization that seeks to "reduce the danger of nuclear weapons and increase national security", primarily through supporting progressive, congressional candidates who support their policies. The Council supported Ellen Tauscher in her successful House of Representatives run as candidate for California.[3]
Peace Pledge Coalition
In 2007 90 Members of Congress, pledged in an open letter delivered to President Bush: "We will only support appropriating funds for U.S. military operations in Iraq during Fiscal Year 2008 and beyond for the protection and safe redeployment of all our troops out of Iraq before you leave office." The letter was initiated by the Peace Pledge Coalition. The Coalition was led by Tim Carpenter, Progressive Democrats of America, Bob Fertik, Democrats.com Medea Benjamin, CodePink, Bill Fletcher, co-founder of Center for Labor Renewal David Swanson, AfterDowningStreet.org, Democrats.com, Progressive Democrats of America, Kevin Zeese, Voters for Peace, Democracy Rising, Brad Friedman, co-founder of Velvet Revolution, Bill Moyer, Backbone Campaign.
Ellen Tauscher signed the letter.[4][5]
Obama appointment
In May 2009 Ellen Tauscher was nominated[6]by the Obama administration for the position of Undersecretary for Arms Control and International Security Affairs in the DOS and confirmed in June 2009.
EMILY's List
Tauscher was supported by EMILY's List during her campaigning.
References