Dean Heller
From KeyWiki
Dean Heller is a Republican Senator from Nevada.
2015 visit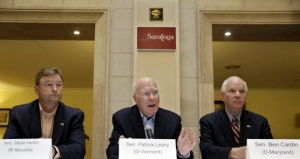 Three visiting U.S. senators said on June 27, 2015, they hoped Congress would support President Barack Obama's opening toward Cuba, including lifting a ban on U.S. citizens traveling to the Communist-run island.
Democratic Senators Patrick Leahy of Vermont and Ben Cardin of Maryland joined Republican Dean Heller of Nevada on a trip to Cuba where they met First Vice-President Miguel Diaz-Canel, Foreign Minister Bruno Rodriguez and ordinary Cubans.
"We think that can be achieved this year and we can make additional progress next year," Cardin told a news conference. "We're optimistic this path that President Obama and President (Raul) Castro started will be continued."
Heller, one of a few Republican senators to side with Obama on Cuba, encouraged members of Congress to visit Cuba and engage with ordinary Cubans. "I think the Senate can move the House, but the Senate's going to have to act first," Heller told Reuters after the news conference.[1]
2016 Cuba trip
Senator Dean Heller was part of President Barack Obama's March 2016 delegation to Cuba.[2]
References