Coalition of Black Trade Unionists
From KeyWiki

The Coalition of Black Trade Unionists
About
Mission
The stated mission of the Union is:[1]
"To fulfill the dream of those Black trade unionists, both living and deceased, who throughout this century have courageously and unremittingly struggled to build a national movement that would bring all our strengths and varied talents to bear in the unending effort to achieve economic, political and social justice for every American."
History
In September of 1972, more than 1,200 black union officials and rank and file members, representing thirty-seven different international and national unions, met in Chicago for two days to discuss the role of black trade unionists in the labor movement. Five black labor leaders, alarmed that the AFL-CIO Executive Council had taken a "neutral" position in the 1972 presidential election between incumbent Richard Nixon and challenger George McGovern, called this founding conference of the Coalition of Black Trade Unionists. They believed AFL-CIO President George Meany had ignored the voice of black trade unionists. Neutrality, they believed, would contribute to the re-election of Nixon. The call they issued for the conference noted:
"We are concerned that the re-election of Richard Nixon will almost certainly result in four more years of favored treatment for the rich and powerful; continued unemployment; frozen wages; high prices; appoint- meant of additional members of the U.S. Supreme Court who are conservative and insensitive to the rights of workers, minorities, and the poor; more repression and restriction of civil liberties; and the reversal or total neglect of civil rights."
The initial meeting, which took place September 23-24, 1972, at the LaSalle Hotel, constituted the largest single gathering of Black unionists in the history of the American labor movement. It was a bold, empowering action. While the impetus for the Chicago conference was the presidential campaign, the most significant development was the establishment of a permanent organization, the Coalition of Black Trade Unionists[2].
The delegates made it clear that black workers were ready to share in the power of the labor movement at every level of its policy-making process. CBTU would be a progressive forum for black workers to bring their special issues within unions as well as act as a bridge between organized labor and the black community.
Original CBTU founders
The original 1972 founders of CBTU were[3];
Original CBTU leaders
The original 1972 leaders of CBTU were[4];
CBTU executive committee
As of 2009 the CBTU executive committee consisted of;[5]
CBTU Trustees
As of 2009 the CBTU Trustees were;[6]
CBTU regional representatives
As of 2009 the CBTU regional representatives were[7];
CBTU staff
As of 2009 the CBTU staff were[8];
DSA supporters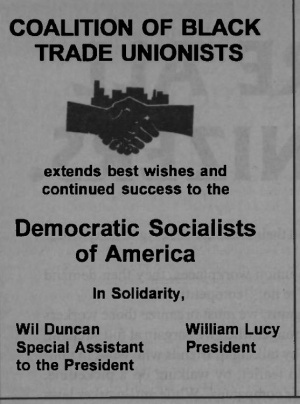 37th International Convention
From May 22-25, 2008, the CBTU held their 37th International Convention in St. Louis, Missouri.[9]
May 22 Opening Session
The following is a list of the speakers from the May 22 opening session:[10]
There was also a C.A.R.A.T. Team Presentation during the opening session.
National Women's Conference
The following is a list of the speakers from the National Women's Conference:[11]
Town Hall Meeting
The following is a list of the speakers from the Town Hall meeting:[12]
Panelists:
May 24 Opening Session
The following is a list of the speakers from the May 22 opening session:[13]
Sunday Worship
The following led the May 25 Sunday worship:[14]
Awards Banquet
The following is a list of the speakers from the awards banquet:[15]
Sponsors
References