Cecily McMillan
From KeyWiki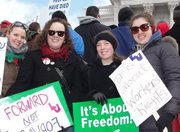 Cecily McMillan is a Wisconsin activist.
Activism
In 2010 McMillan was a senior at Lawrence University in Appleton, WI. In addition to her participation in Young Democratic Socialists, previous political involvement includes co-founding and leading her campus' FairWisconsin student organization, promoting LGBTQ rights, as well as organizing campus-wide political debates and small discussion groups. Before college, she was employed in Atlanta by Georgia PIRG, canvassing for community support on key environmental issues, and helped campaign/canvas for Nan Orrock, Georgia State Senator. While in Atlanta McMillan was YDS Southern Regional Organizer.
Prior to Atlanta, McMillan lived in several small towns/cities in Southeast Texas, and worked to create Young Democrats Organization's at two different high schools.[1]
Occupy movement
Occupy Wall Street has been heating up in New York and around the country. DSA honorary chair Cornel West was arrested on the steps of the Supreme Court as part of an Occupy DC protest against the Supreme Court's "complicity in unfettered corporate financing of politicians".
The New York Times quoted DSA vice-chair and National Political Committee member Joseph Schwartz and Young Democratic Socialists (YDS) Northeast Regional Organizer Cecily McMillan about Occupy Philadelphia and #Occupy Wall Street respectively.[2]
References