Bob Menendez
From KeyWiki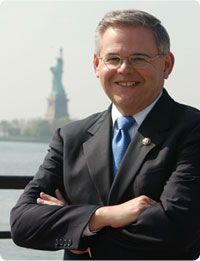 Bob Menendez is a Democratic member of the United States Senate, representing New Jersey.
Menendez was sworn in to the Senate on January 18, 2006, having been appointed by New Jersey Governor Jon Corzine to fill the remainder of his term. Later that year, New Jerseyans elected him to serve a full six-year term as United States Senator. He currently serves on the Senate Committees on Finance; Banking, Housing and Urban Affairs; and Foreign Relations. Bob is also the Chairman of the Banking Subcommittee on Housing, Transportation and Community Development; and the Foreign Relations Subcommittee on Western Hemisphere, Peace Corps, and Global Narcotics Affairs.[1]
Support for the Council on American Islamic Relations
Bob Menendez wrote a letter of support to the Council on American-Islamic Relations (CAIR) on the occasion of their 24th anniversary in September 2018.[2]
Support from Onward Together
Onward Together supported Bob Menendez as a candidate for the 2018 midterm elections.[3]
Background
Bob Menendez was born on New Year's Day, 1954. He received his B.A. from St. Peter's College in Jersey City and his law degree from Rutgers University. He currently lives in Hoboken and has two children.[4]
Politics
Menendez has served as a school board member, a mayor and a state legislator. Since 1993, "he has been standing up for New Jersey families in Washington, where he rose to become the third-highest ranking Democrat in the U.S. House of Representatives."[5]
Intelligence role
After September 11, 2001, "Bob earned national recognition for his leadership in reforming the country's intelligence, security, and public health systems and for fighting to establish an independent commission to investigate the terrorist attacks on our country". He was a leader in the fight to successfully implement the 9/11 Commission's national security recommendations, including the provision to ensure that high-risk states like New Jersey receive their fair share of security funding. He helped author legislative language that will ensure all cargo coming to U.S. ports is scanned. He led the successful drive to fully reopen the Statue of Liberty, and today, he is working to improve the security of our bus, rail and public transit systems.[6]
Sinn Fein sympathiser
In 2002, when allegations surfaced that the Irish Republican Army was working with Colombia's narco-terrorist FARC guerillas, the Irish Echo commented on many US Congressmembers' Sinn Fein sympathies.[7]
The 47-member House International Relations Committee represents a broad cross-section of congressional political opinion. Fourteen of the members represent northeast (mainly New York and New Jersey) constituencies, some such as Ben Gilman's, with a strong Irish-American makeup. A substantial core of these have been identified over the years with Irish issues. As well as Gilman, they are Peter King, a New York Republican; Robert Menendez, a New Jersey Democrat; Joe Crowley, a New York Democrat; Christopher Smith, a New Jersey Republican; Eliot Engel, a New York Democrat, and Gary Ackerman, also a New York Democrat.
All have been sympathetic to Sinn Fein and the Irish nationalist agenda in general. King has been a long-time supporter also of the IRA. Smith was prominent in the hearings into Northern Ireland police reform. They can be expected to lend a sympathetic ear to any plausible explanation from Sinn Fein as to what the three republicans were doing in Bogota, should the party chose to send a representative to the hearing.
However, Rep. Hyde and Cass Ballenger a Republican from North Carolina, both conservatives, have been resolute in their determination to look at the allegations of IRA and FARC links. Ballenger was unequivocal when speaking before the Subcommittee on the Western Hemisphere on April 11. "The IRA has been in Colombia providing the FARC narco-terrorists with urban terrorist expertise and training," he said.
Supported by Council for a Livable World
The Council for a Livable World, founded in 1962 by long-time socialist activist and alleged Soviet agent, Leo Szilard, is a non-profit advocacy organization that seeks to "reduce the danger of nuclear weapons and increase national security", primarily through supporting progressive, congressional candidates who support their policies. The Council supported Bob Menendez in his successful Senate run as candidate for New Jersey.[8]
Campaign to Make Immigration Reform a Top Issue in 2010
On October 13 2010 , immigration activists from around the country gathered to join in a vigil and rally in front of the U.S. Capitol in Washington, DC., where Congressman Luis V. Gutierrez and other elected officials launched a new push for comprehensive immigration reform, building to the opening months of 2010. their banners read "Reform Immigration FOR Families" and "Family Unity Cannot Wait."
More than 750 people traveled to Washington on buses from up and down the Eastern seaboard and as far away as Texas, Florida, Ohio, Minnesota, and Michigan. They spent Tuesday morning meeting with Congressional offices before being joined by thousands of people from the D.C., Maryland, and Virginia area, who gathered on the grounds of the U.S. Capitol to listen to testimonies from families, veterans, and children who face family disintegration because of immigration laws and deportation.
Religious leaders from a diverse array of faith traditions around the country, some organized through Familias Unidas, added their voices.
At the event Congressman Gutierrez outlined a set of principles for progressive immigration reform that needs to include a rational and humane approach to legalize the undocumented population, to protect workers' rights, to allocate sufficient visas, to establish a smarter and more humane border enforcement policy, to promote integration of immigrant communities, to include the DREAM Act and AgJOBS bills, to protect rights guaranteed by the Constitution, and to keep families together.
The lawmakers who joined Rep. Gutierrez on stage, and addressed the gathering included Sen. Robert Menendez (D-NJ), Congressional Hispanic Caucus Chairwoman Rep. Nydia Velazquez (D-NY), Congressional Asian Pacific American Caucus Chairman Rep. Michael Honda (D-CA), Congressional Progressive Caucus Chairs Raúl M. Grijalva (D-AZ) and Lynn Woolsey (D-CA), Congressional Black Caucus Member, Yvette Clarke (D-NY), Democratic Caucus Vice Chair Xavier Becerra (D-CA), Jared Polis (D-CO), Jan Schakowsky (D-IL), Michael Quigley (D-IL), and Delegate Gregorio Sablan (Northern Mariana Islands).[9]
AFL-CIO rally
On April 4, 2011, in Trenton New Jersey, the AFL-CIO sponsored rally on the 43rd anniversary of Martin Luther King, Jr.'s assassination. The rally was at the IBEW local hall. The Rutgers AAUP-AFT was a cosponsor. The purpose was to connect the struggles of the labor movement with the struggles for civil rights in the U.S.
According to Communist Party USA member Norman Markowitz, at the rally was an educational roundtable involving Nobel Prize winning economist and New York Times columnist Paul Krugman, Randi Weingarten, president of the AFT nationally, James Harris, president of the New Jersey NAACP, Rahaman Muhammad, SEIU New Jersey State Council President, and representative Rush Holt, Jr. and Senator Robert Menendez, among others.
Most of the speakers were upbeat "even in these times of crisis". Most saw Wisconsin as an example to be emulated. Most stressed the need to "educate citizens who have been fed a steady diet of lies by rightwing media".
Congressman Rush Holt, Senator Menendez and others made the point clearly that this is about union busting, not budget balancing in any of the states in question. The case of Professor William Cronon was raised as an example of the policy of intimidation which the Republican right has launched--if Cronon, "with his scholarly achievements and academic protections, can be attacked in such a way and university officials forced to turn over emails, then no one is safe in their basic civil liberties and rights".[10]
IAPAC money
Senator Bob Menendez received money from the Iranian American Political Action Committee during the 2012 election cycle.[11]
ARA endorsement, 2014
The Alliance for Retired Americans Political Action Fund endorsed Bob Menendez in 2012.[12]
Congressional Hispanic Caucus
In 2013 Bob Menendez was a member of the Congressional Hispanic Caucus.
PDA contact
In 2013 Progressive Democrats of America assigned activists to deliver their material to almost every US Congressman and several Senators. Mary Ellen Marino, was assigned as contact for Sen. Menendez.[13]
Corporate Accountability
The Corporate Accountability Coalition is an alliance of organizations whose work includes a focus on issues of corporate accountability and transparency, abuse of power by corporations, responsible business practices, and the rights of people.
Organizations include leftist groups the Center for Corporate Policy , the Institute for Policy Studies , CorpWatch, Corporate Accountability International , the International Corporate Accountability Roundtable, and EarthRights International
The report card is based on 17 actions (9 in the House and 8 in the Senate) that form a good litmus test of whether lawmakers are working for the narrow interests of large corporations or for all of us.
According to the Coalitions first-ever Congressional Report Card on Corporate Accountability issued in 2013, only two Representatives and four Senators scored higher than 87 percent. The top scores went to former Rep. Pete Stark (D-CA) and Rep. Keith Ellison (D-MN) in the House and Senators Richard Blumenthal (D-CT), Al Franken (D-MN), Robert Menendez (D-NJ) and Sheldon Whitehouse (D-RI).[14]
"Amnesty" hunger strike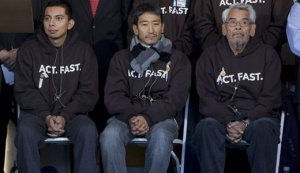 December 4, 2013, saying their 22-day "fast for families" to demand Congress approve comprehensive immigration reform had gotten worldwide attention, former Service Employees Secretary-Treasurer Eliseo Medina and his fasting colleagues ended their D.C. vigil by handing off the fast to a group of successors.
The fast drew continued attention to the issue, and support from Democrats all the way up to President Obama, who visited the fasters in their tent at the foot of Capitol Hill on Dec. 1. But it did not budge the decision-makers it targeted: the anti-immigrant, anti-Hispanic GOP majority in the U.S. House. [15]
Numerous lawmakers stopped by the tent to express their support. Twenty six members of Congress, all Democrats, even joined the fast in solidarity for 24-hour periods, including Joe Garcia, New Jersey Sens. Bob Menendez and Cory Booker and California's Zoe Lofgren, the top Democrat on the House's immigration subcommittee.[16]
The "Jihad" Caucus
In May 2015, a group of 14 U.S. senators, led by Illinois Senator Dick Durbin and Minnesota Senator Amy Klobuchar, wrote a letter to President Obama urging him to allow 65,000 Syrians into the United States as refugees. This would require a dramatic expansion of the refugee program, and virtually guarantee that a sizable number of ISIS fighters would slip in among them. Frank Gaffney's Center for Security Policy called these Senators the "Jihad Caucus" because practically speaking, Jihad is what this request will bring.
The 14 senators demanding this massive influx of Syrians were: Dick Durbin, Amy Klobuchar, Al Franken, Patrick Leahy, Dianne Feinstein, Patty Murray, Robert Menendez, Sheldon Whitehouse, Jeanne Shaheen, Chris Coons, Tim Kaine, Ed Markey, Sherrod Brown, and Mazie Hirono.
These same 14 had sent another letter in April Demanding action on the Syrians.[17]
On CAIR
"I commend CAIR for its efforts to support the principles of civic engagement on which our nation was founded (October 2017."[18]
Jersey City MSA event
Jersey City, (February 18, 2017) – New Jersey City University (NJCU) will present "NJCU Students Supporting Refugees: Open Arms, Open Hearts, Open Doors" on Friday, February 24, 5:00 - 9:00 p.m., on the NJCU Main Campus at 2039 Kennedy Boulevard in Jersey City. The event will take place in Multipurpose Room B of the Michael B. Gilligan Student Union Building. All are welcome.
The evening represents the culmination of many months of work to develop a Refugee Center at NJCU. The effort was spearheaded by the Muslim Student Association (MSA) and supported by MSA Faculty Advisor and Assistant Professor of Biology Meriem Bendaoud, and Professor of English Audrey Fisch.
Dinner for the evening will be provided by GERA, Global Emergency Response and Assistance. This organization, along with Church World Services (CWS) and International Rescue Committee (IRC), provides key support to refugees arriving in the Jersey City area.
Speakers on February 24 will include NJCU President Sue Henderson; Dinesh Suryawanshi on behalf of U.S. Senator Cory Booker; Esther Ongeri on behalf of U.S. Senator Robert Menendez; NJCU faculty member and Syrian Rescue Scholar Hassan Aljabbouli; NJCU student and Syrian refugee Zaki Minas; and Public Relations Representative from GERA, Jessica Abdelnabbi.
Any questions about this event can be directed to Dr. Meriem Bendaoud, , Faculty Advisor, Muslim Student Association, or MSA President Rania Noubani.[19]
United front for ACA
A number of local politicians and lawmakers, including New Jersey Senators Cory Booker and Robert Menendez, U.S. Representatives Frank Pallone, Donald Payne, Jr., Bill Pascrell, Albio Sires, Josh Gottheimer, and Bonnie Watson Coleman, and Newark Mayor Ras Baraka, were present at a January 15th 2017, at 11:30 a.m. at the Robert Treat Hotel (50 Park Place) downtown Newark, rally to press for protection of the Affordable Care Act.
The law, often referred to as "Obamacare," is currently under threat. The U.S. Senate voted at around 1:30 a.m this morning to approve a procedure that will let them potentially repeal parts of the ACA through a reconciliation bill, which enables the Congress to make changes to spending and tax legislation and, crucially, is filibuster proof. Reconciliation was used to pass the ACA in 2010.
Earlier today, Payne, Jr. delivered a speech on the floor of the U.S. Congress to highlight how Republican efforts to repeal the Affordable Care Act will affect Americans who depend on the law for their healthcare. He shared a story about how the ACA had helped a constituent who faced dire health problems, in order to humanize what is at stake if the legislation is repealed.[20]
External links
References