Bob Martin
Jump to navigation
Jump to search
Bob Martin
CoC National Conference endorser
In 1992 Bob Martin, president Alameda County Forum, California, endorsed the Committees of Correspondence national conference Conference on Perspectives for Democracy and Socialism in the 90s held at Berkeley California July 17-19.[1]
Birthday Greetings to William "Red" Davis
In December 1995 the Communist Party USA newspaper Peoples Weekly World published a page of 75th birthday greetings to William (Red) Davis - "Lifelong working class fighter and Communist"
In the fight for the unity and integrity of the Party in St. Louis, Missouri, in the post-war years, "Red" has been a rock of confidence and commitment to building the Communist Party.
Greetings were sent from Bob Martin of California[2].
Endorsed Communist Party fund raiser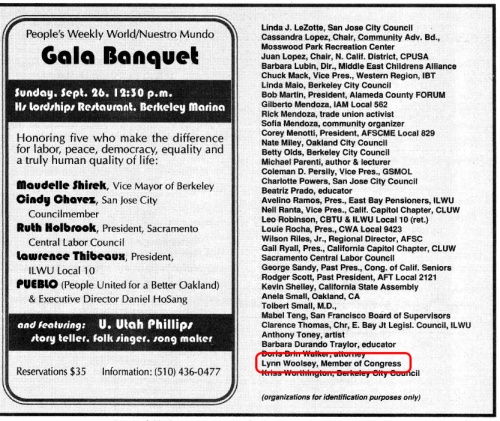 In September 1999, Bob Martin, President, Alameda County Forum co-sponsored a Communist Party USA fund raising event in Berkeley. Rep. Lynn Woolsey co-sponsored the same event. [3]
References
Template:Reflist Template:Endorsers of the Conference on Perspectives for Democracy and Socialism in the 90s
↑

Peoples Weekly World December 9, 1995 page 19

↑

Peoples Weekly World, September 11, 1999