Bill Andersen
Jump to navigation
Jump to search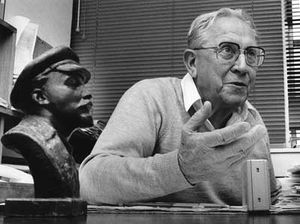 Harold (Bill) G. Andersen
Moscow connections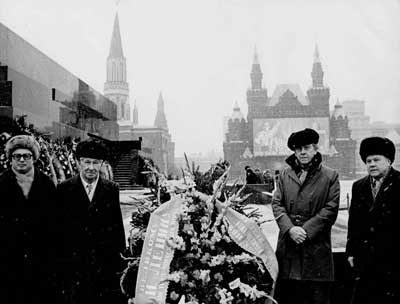 Maritime Unionist Socialist Activities Association
In 2001 Warren Brewer attended a Maritime Unionist Socialist Activities Association conference in Australia with Bill Andersen. [1]
SPA/MUSAA conference
New Zealand delegates Bill Andersen, Mike Williams, Joe Fleetwood and Rachael Goddard attended the Australian Maritime Unionist Socialist Activities Association and Socialist Party of Aotearoa Conference held 18 – 20 February 2003, at St. George Basin, Australia.
According to Rachael Goddard;
This conference was a great education for the twenty comrades that attended from around Australia and New Zealand.
Part of educating ourselves towards building a strong, militant and democratic union was to ask your self at the end of the seminar "what do you intend to do differently after the seminar than before the seminar?"
We should aim to make the minority accountable, by exposing discrimination and getting law changes.
Global Capitalism is dominant in our world today, but it has not always existed. It came after the feudal system, and before that the slave system and previous primitive communal system, and one day the current system will change too.
Most Socialists would agree we need the majority on side to get the changes.
The Seminar had an "immediate gain" in the setup of a Tasman Shipping Campaign.
On "behalf of my fellow Kiwis" Rachael Goddard thankedd the Wellington Branch for the nominations, the Maritime Union of Australia for the Training School facilities, the Workers Institute of Scientific Socialism, the Maritime Unionist Socialist Activities Association of Australia and the Socialist Party of Aotearoa for the opportunity.
WORKERS OF THE WORLD MUST UNITE![2]
SPA/Seafarers
Early 2000s Seafarers, Socialist Party of Aotearoa, at Willowhaven Holiday Park in Rotorua (owned by the Wood Industires Union of Aotearoa).
Glen Andersen, Jim Jones, Odette Shaw, Gerry Hill, Maxine Gay, Brendan Tuohy, Dave Morgan, Jennifer Francis, Bill Andersen, Pat Brown, Trevor Noel, Warren Brewer.
Kingsgate Accord
With Mike Jackson, Bill Andersen, Judy Attenberger, Darien Fenton, Andrew Little, Jim Jones
Last SUP Central Committee meeting before split
Wellington March 1990.
Back Joe Tepania, Dave Arthur, Alan Ware, Ken Douglas, Graeme Whimp, Richie Gillespie, Doug McCallum, Jan Farr, Joe Tonner.
Front row Frank McNulty, Jack Marston, Marilyn Tucker, Robin Tate, Bruce Skilton, George Jackson, Bill Andersen.
May Day Auckland
Len Smith, Margaret Wilson, Johnny Mitchell, Frank Clarke, Bill Andersen, Jim Knox, Frank Barnard.
With Mayor Robbie
Bill Andersen, Mayor Dove Myer-Robinson, John Taylor, Steve O'Reilly, Peter Purdue, Bob Stormont.
NZCWP
References