Barb Kucera
Jump to navigation
Jump to search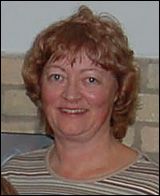 Barb Kucera is a Minnesota activist. She is a regular writer for the Communist Party USA newspaper People's Weekly World.
Background
A native of Germantown, Wisconsin, Kucera has a passion for writing that goes all the way back to when she started up a family newspaper while still in grade school. Her interest in the world beyond, even as a child, is evidenced by her analysis of the 1968 presidential election in that little handwritten newspaper. Later she was editor of her high school newspaper.
While attending the University of Minnesota, Kucera worked at the student newspaper, the Minnesota Daily, which she describes as a " a great experience." After graduation Kucera went to work as a reporter for the Duluth News Tribune. She later received her Masters degree in Industrial Relations from the University of Wisconsin. She went on to serve as editor of the Saint Paul Union Advocate for 14 years.
In 2000 Kucera helped create the Workday Minnesota.org, a website that covers news and issues that are important to working people, and is affiliated with Labor Education Services at the University of Minnesota. She also assists with producing "Minnesota at Work," a weekly cable TV program. She also does some teaching and off-campus workplace training, as well as teaching labor history classes.
Kucera considers this an exciting time for the labor movement and working people. "There's time to advance a really progressive agenda. It will not be easy. Sometimes the obstacles to overcome do not come from the outside, but from within… the membership is there. We need leadership to stand up and speak up. People are in sync with issues that the labor movement has been talking about for decades."
Kucera is active in the Minnesota Newspaper Guild Typographical Union; National Writers Union; the Labor Project, Twin Cities Labor History Society, and the Resource Center of the Americas, which, "sadly, ceased operation in August of this year" (2010).[1]
Labor advocacy
Barb Kucera edited the Union Advocate from nearly 14 years, leaving in July 2000 to edit www.workdayminnesota.org[2].
References