Steve Kest
Jump to navigation
Jump to search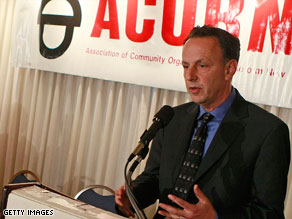 Steve Kest
Education
Kest graduated from Harvard in 1975.[1]
ACORN
For 35 years, Steve Kest has been one of the leading community organizers in the United States, helping lead the Association of Community Organizations for Reform Now, from its early days as an Arkansas-based organization with just a few chapters in Little Rock into a national powerhouse with more than 500,000 members in 110 cities and 30 states.
Kest helped build the organization's national legislative operation in Washington, D.C., and leading ACORN's work on issues such as living wages, poverty reduction, affordable housing, and immigration reform. Kest also created ACORN's Annual Legislative and Political Conference in 1992, which brought low-income grassroots leaders from across the country to Washington D.C. for five days each year to learn about national policy and meet with their elected representatives to discuss issues that impact their families and communities.
Prior to becoming executive director in 1990, Kest spent many years as a grassroots community organizer, serving as head organizer of Arkansas ACORN, where he expanded the organization throughout the state, and founding and directing ACORN offices in Connecticut and New Jersey. Kest later became ACORN's national campaign director, a role in which he developed ACORN's approach to education issues, community reinvestment campaigns targeting banks and redlining, and the organization's response to the savings and loan crisis of the late 1980s, resulting in a massive federal commitment to finance affordable housing in return for the bailout.
During his time at ACORN, Kest served on the boards of many related civic, advocacy, and political organizations; wrote articles for journals in the field; and provided testimony and advice to congressional committees and Cabinet secretaries.
Kest stepped down as ACORN's executive director at the end of 2009.[2]
New Party founders
The two key founders of the New Party were Joel Rogers and Dan Cantor.
The first strategic meetings to plan the New Party were held in Joel Rogers' home in Madison Wisconsin in the very early 1990s. Present were Rogers' wife Sarah Siskind, Dan Cantor, ACORN leaders , Wade Rathke ,Zach Polett , Steve Kest and Jon Kest , Steve Cobble from the Institute for Policy Studies (in an advisory role), Sandy Morales Pope (for the first 18 months), Harriet Barlow and Barbara Dudley.
The very first meeting included Gerry Hudson from Democratic Socialists of America and SEIU and Gary Delgado, plus labor activists Sam Pizzigati and Tony Mazocchi. Anthony Thigpenn of Los Angeles was also approached, but though supportive did not wish to play a leadership role.[3]
Progressive States Network
In 2010, Steve Kest served on the Board of Directors for the Progressive States Network, an organization which seeks to "transform the political landscape by sparking progressive actions at the state level".[4]
CAP
Since early 2010 Steve Kest has been a Senior Fellow at the Center for American Progress, where he is "focusing on building links between the Center's policy experts and grassroots community organizations".[5]
References