Steve Coll
Jump to navigation
Jump to search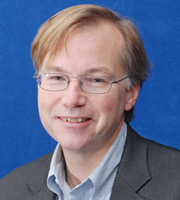 Template:TOCnestleft Steve Coll is the President and CEO of the New America Foundation.[1] A former student, Coll now serves on the Board of Trustees for Occidental College. He is married to Susan Coll.
Occidental
While at Occidental College in the late 1970s, Coll was close to Rick Cole.
Journalism
Coll, president of the New America Foundation and author of six award-winning nonfiction books, is considered one of the nation's foremost experts on the Bin Ladens and Al Qaeda. Previously, he spent 20 years as a foreign correspondent and senior editor at The Washington Post, serving as the paper's managing editor from 1998 to 2004.[2]
Coll's 2004 book, "Ghost Wars: The Secret History of the CIA, Afghanistan and Bin Laden, from the Soviet Invasion to September 10, 2001" won that year's Pulitzer Prize for general non-fiction. And his most recent book, published just last year, is "The Bin Ladens: An Arabian Family in the American Century."
Coll began his journalism career at California magazine in 1982 then moved to the Washington Post in 1985, where he held several positions including feature writer, financial correspondent in New York and South Asia bureau chief. Coll's work in New York lead to his first Pulitzer Prize in 1990 for explanatory journalism for his coverage of the Securities and Exchange Commission.
From 1998-2004 - at the same time he was working on "Ghost Wars" - Coll was also the Post's managing editor. "Ghost Wars" has been called "the finest historical narrative so far on the origins of al Qaeda in the post-Soviet rubble of Afghanistan."
On Obama and Osama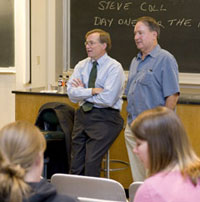 Pulitzer prize-winning journalist Steve Coll shared his thoughts on terrorism, Iraq, and Afghanistan, among other topics, in talks to the Occidental College community Oct. 22, 2008. His co-speaker was Stuart Chevalier Professor of Diplomacy and World Affairs Derek Shearer.
He shared insights gleaned while researching his latest book, The Bin Ladens: An Arabian Family in the American Century, focusing on the development of the family's leaders from Osama bin Laden's father, Mohammed, to Mohammed's eldest son, Salem, and then Osama himself. These three males manifested a streak of "charismatic genius," Coll said.
Later that afternoon, Coll gave a more informal talk to students and faculty on campus. He focused his remarks on addressing the question, what will happen on the new president's first day in office? He suggested that the next president, whom he said likely will be Barack Obama '83, will try to get U.S. troops in Iraq down to a "residual force" of 40,000 to 50,000 by the end of his first term, with a gradual shift of forces to Afghanistan.
He predicted a "holding pattern" in Iraq for the first six to 10 months of the next U.S. presidency, although he said a coup in that country is "widely anticipated." He also predicted that Pakistan and Afghanistan will come to be seen as one entity, "the way the Taliban sees them." He said that the military and White House are currently engaged in "a complete rethinking and rewriting of the American strategy in Afghanistan and Pakistan," and that the consensus is that the only exit strategy there is to heavily invest in training and equipping the Afghan national army.
Coll concluded both talks by taking questions from the audience. "Is Osama still alive, and do you know where he's hiding?" asked a guest at the Biltmore lunch. Coll opined that the Al Qaeda leader is indeed living, and said he is thought to be hiding along the Afghanistan-Pakistan border. He also predicted that we may hear from him -- though not likely in the form of an attack -- in the days before the U.S. presidential election.[2]
External links
References