Paul Robeson 100th Birthday Committee
Jump to navigation
Jump to search
Template:TOCnestleft Paul Robeson 100th Birthday Committee was set by Chicago based socialists, headed by Mark Rogovin, to mark 100th the anniversary of Paul Robeson's birthday in 1998.
Postage stamp campaign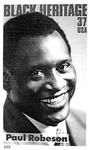 The campaign to have a Paul Robeson stamp issued began in 1997, one year before the centennial of his birth. The Chicago-based Paul Robeson 100th Birthday Committee started a petition, which they sent to the Citizens' Stamp Advisory Committee. Despite the 90,000 signatures and "massive public support", the committee rejected the stamp. By the time they agreed to issue the stamp, the Paul Robeson 100th Birthday Committee had collected nearly 250,000 signatures[1].
However, the campaign's success is not limited to the stamp's approval. The work that went into the campaign also did much to educate the American people about Robeson's life.
Mark Rogovin, of the Paul Robeson 100th Birthday Committee, stated, "we had this idea about pushing for the stamp and we obtained contacts from all over the United States in connection with the 100th birthday celebrations…. Many thousands or even tens of thousands of signatures were gathered at Chicago's DuSable Museum of African American History. Every day, busloads of school children would visit the museum on field trips, learn about Robeson, and sign the petition.
Acknowledgments
Paul Robeson 100th Birthday Committee "With recognition to those who launched this campaign and those who gave guidance and leadership to the Committee's activities."
George Bailey, Timuel Black, Dr. Margaret Burroughs, Fred Fine, Don Goldhamer, Kevin Horton, Ife McWorter, Nancy Mikelsons, Joe Powers, Sr., Ramon Price, Mark Rogovin, William Scott, Woodie T. White.
City of Chicago, Dept. of Cultural Affairs For their commitment to the Paul Robeson Centennial Campaign and their funding which helped make this publication possible.
Prof. Andrew Pickett The authors gratefully acknowledge his important research for the expanded second edition of this publication.
Cathy Campo For her seemingly unending work over the past 4 years in entering all stages of this document on her computer–handling endless additions and corrections as well as formatting and layout.
Cynthia Van Swearingen For continually scouring the Internet and downloading the FBI Robeson files and other historical references[2].
Volunteers and interns
References