Mike Martinez
Jump to navigation
Jump to search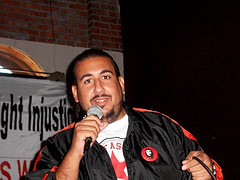 Template:TOCnestleft Mike Martinez is a Miami, Florida based Cuban-American member of the Workers World Party. Graphic Designer/Production at Progressive Printshop.
Education
Studied Chairman of the Bolivarian Youth at Florida International University
Went to North Miami Senior High School
Labor Community Alliance
In 2020 Jen Perelman was endorsed by the Labor Community Alliance of South Florida.
Jen Perelman August 30 2020
I am so saddened about Jack Lieberman. There will be a huge hole in South Florida's progressive and labor communities. I am committed to always speaking truth to power and fighting for labor. Jack was always a supporter. He always had my back. Rest in Power dear man. 💔
Labor Community Alliance of South Florida — with Michael Hepburn and Michael Martinez, Yadira Escobar, Jack Lieberman, Carolina Ampudia, Joe Kreps, Lorenzo Canizares, Alina Valdes.
Speaking at the People's Summit
From June 14-17 2009, the Moratorium NOW!-initiated People's Summit was held at Grand Circus Park, Detroit, MI. A "tent city" was built at the location, and protesters camped there for four days of "Active Resistance, Political Discussion and Strategizing for a "People's Stimulus Plans" and an "Economic Bill of Rights" for Working People and the Poor." Moratorium NOW! is a Workers World Party-front organization. Speaking at the summit were Jesse Jackson; JoAnn Watson; Abayomi Azikiwe, Workers World Party; Mike Martinez, FIST, Workers World Party; Baldemar Velasquez, FLOC; Ignacio Meneses, U.S./Cuba Labor Exchange; and Rosendo Delgado, Latinos Unidos.[1]
WWP member
A standing-room crowd of some 80 people participated in Workers World Party's Southern Regional Conference, held Oct. 23 2010 in Durham, N.C. The conference was hosted by the Durham WWP branch which was formed in 2009.
At the end of the conference, participants joined in the singing of the Internationale. Mike Martinez and Miya Campbell, both Workers World Party members and workshop speakers, provided cultural performances during the plenary sessions.[2]
Workers World Party 2009 conference
Program Schedule for National Conference of Workers World Party: 50 Years in the Struggle for Revolution and Socialism.[3]
Sunday, November 15
Continuing Floor Discussion from Saturday Chair: Richard Kossally
Final Plenary Session: Building a Revolutionary Proletarian Party
Chair: Joyce Chediac; Speakers: Kris Hamel, Steve Kirschbaum, Dee Knight, Richard Kossally, Mike Martinez
2010 WWP National Conference
Mike Martinez: "I got my scope on you Tea Party Fascists"
The 2010 National Workers World Party Conference was held on Saturday and Sunday, Nov. 13 - 14, 2010, and had the tagline, "2010 National Workers World Party Conference".[4]
Opening Plenary Session: The Capitalist Elections, Economic Crisis and Struggle for Socialism: What does it mean for the left and for the working class?
Chair: Elena Everett; Speakers: Fred Goldstein, Teresa Gutierrez, Larry Hales, Larry Holmes; Cultural performances by Miya Campbell and Mike Martinez.
Martinez performed a "poem" at the Conference. Excerpts from the transcript are below. The video is to the right.
"So get ready, cause I'm coming strapped... Don't forget, I got my scope on you Tea Party fascists. I'm reading Lenin, training in target practice. Let's see who's the fastest.... After genocide, slavery, AIDS and global warming, this beef is unsquashable, because the class contradictions have become permanently irreconcilable..."
"Remember New Orleans? They let those levees break... That's right boss man, them bells are tolling. It's time to settle the score... They won't be able the dam the rushing tides of people's war..."
"The AKs are clocked, locked and cocked in the Dakotas. Because the North and South belongs to the Lakota... And this is just a first taste of what's to come when all ducks will be in a row. Wait till you see my Panther comrades lead an uprising in every single last ghetto..."
"The Pentagon? they're lucky all these people are sleeping. Cause with all their troops in Iraq, we could easily catch them sleeping.... They wanna know why we'll bear arms? that's easily explainable... So follow the Party's command, every woman student and man, fall into position. The Workers World Party will put the bosses up against the wall and bring justice to each one in the order of who's the greediest of them all... And as for the pigs? We're out of time. Because like a good Jew or a Muslim, we don't deal with no swine."
Party of Communists USA
In 2014 Michael Martinez was a Central Committee Member at Party of Communists, USA.
Comrades
Kelly McConnell and Mike Martinez.
References
Template:Reflist [[Category:Party of Communists USA]