Jennifer Dohrn
Jump to navigation
Jump to search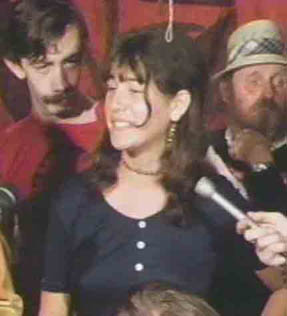 Template:TOCnestleft Jennifer Dohrn is Assistant Professor of Nursing, Columbia University School of Nursing.
Research/Clinical Interests Nurse-Midwifery, Women's Health Midwifery training in HIV/AIDS in South Africa.[1]
Weathergirl
In the 1970's Jennifer Dohrn was a national leader of the the Praire Fire Organising Committee, the Weather Underground Organization's above ground support network and a spokesman for her sister Bernardine Dohrn.
She was later married to radical lawyer Haywood Burns.
Hard Times Conference
In 1976 Jennifer Dohrn for PFOC National Committee attended the Weather Underground and Prairie Fire Organizing Committee organized Hard Times Conference Jan 30 - Feb 1 at the University of Chicago.[2]
"Support Bill Ayers"
In October 2008, several thousand college professors, students and academic staff signed a statement Support Bill Ayers in solidarity with former Weather Underground Organization terrorist Bill Ayers.
In the run up to the U.S. presidential elections, Ayers had come under considerable media scrutiny, sparked by his relationship to presidential candidate Barack Obama.
We write to support our colleague Professor William Ayers, Distinguished Professor of Education and Senior University Scholar at the University of Illinois at Chicago, who is currently under determined and sustained political attack...
We, the undersigned, stand on the side of education as an enterprise devoted to human inquiry, enlightenment, and liberation. We oppose the demonization of Professor William Ayers.
Jennifer Dohrn of the Columbia University School of Nursing signed the statement.[3]
References
↑

Outlaws in Amerika, West Goals 1982, Pg33-35