Coleman Persily
Jump to navigation
Jump to search

Template:TOCnestleft Coleman D. Persily , died 2007, age 90, was a Northern California activist and long time Communist Party USA member.
In addition to his wife, he is survived by two sons, Fred and Harold Persily, of Vallejo; a brother, Bernie Persily of Chicago.[1]
Early life
Coleman Persily was born in New York City on March 13, 1916. His parents emigrated from Russia.
He was 20 years old and working as a union activist in New York City's garment district when he decided to join other Americans and volunteer to fight with the Abraham Lincoln Brigade against fascist forces in Spain led by Generalissimo Francisco Franco. They sailed into France and sneaked into Spain by climbing over the Pyrenees.
Their goal, Mr. Persily said, was to stop fascism and the threat of a world war.
When he reached Barcelona, he remembers, he found that the Republican army had a wealth of political idealism, but few troops, supplies and weaponry to fight Franco, who was supported by Germany's Nazi military.
"We thought we were going to get killed. I thought I was never going to make it home," Mr. Persily said in a 1996 interview. His family heard he died in battle and held a memorial service for him.
"Out of 3,000 guys, 1,500 of them were killed in Spain," said Mr. Persily, who in 1996 was among 50 other Lincoln Brigade veterans honored by Spain.[2]
Post War activism
After spain Persily went to work in the Bethlehem Steel shipyards in Los Angeles and later joined the Merchant Marines.
He was a Democratic Party activist and helped lead campaigns for Communist Party USA connected Ed Roybal, who was one of the first Latinos elected to the Los Angeles City Council and the first Latino elected to Congress in nearly 100 years.
Mr. Persily, who worked as an insurance agent, lived in Berkeley before he moved to San Rafael in 1960. He was active in tenants' rights issues in San Rafael's Canal area for many years, becoming a leader during the early years of the Canal Community Alliance and put rent control on San Rafael's ballot in 1981.
"We did get rent control on the ballot. Sure, it lost. Poor people don't vote. I consider that a victory; just getting it on the ballot," said Sam DiGiacomo of Sonoma, who joined Mr. Persily in leading the petition drive that qualified the issue for the ballot.
"He obviously was the grandfather of the Tenants Association of Marin," DiGiacomo said.
Mr. Persily maintained telephone hotlines for both the association and Marin's chapter of the American Civil Liberties Union.[3]
David Bacon met Coleman Persily, because they were both friends of Bert Corona, the founder of our modern immigrant rights movement. In the 50s Persily and Bert Corona helped run the campaign for Ed Roybal, the first Chicano elected to Congress from California since 1879. That was a harbinger of the end of the Yorty years, of the hatred of Latinos seen in the Zoot Suit riots and the Sleepy Lagoon prosecution, and of LA's reputation as the home of the Open Shop. As we know today, much bigger political changes were to come, and people like Henry and Coleman helped set the stage. Coleman went on to help organize the Canal Street Alliance, which today is Marin County's main immigrant rights organization.[4]
Council runs
Persily ran once for mayor and twice for City Council in San Rafael and six times for state Assembly to draw attention to problems faced by tenants in Marin, and the county's lack of affordable housing.
Mr. Persily didn't expect to win, but put his name on the ballot to make sure the issues of Marin's tenants and poor residents weren't ignored.
"He used to say, 'I'm walking for office. I'm not running for office,'" said his son, Fred Persily of Fairfax.[5]
Later activism
In 1990, Mr. Persily and his wife, Pearl, moved to Contempo Marin mobile home park in San Rafael, where he boosted rights of mobile home owners as a leader of the Golden State Manufactured-Home Owners League.
He ran for City Council in 1981 and 1991 and for mayor in 1983. After losing those races, he turned his attention to the state Assembly, where he ran several times as the Peace and Freedom Party candidate, even when he was in his 80s.
"I have always been a fighter for the little guy who needs me," he said in an interview. "Sometimes I think I'm nuts. But if it all wasn't such a sad story, I'd stay home."
Mr. Persily was a recipient of the Martin Luther King Jr. Humanitarian Award presented by the county Human Rights Commission.[6]
Endorsed Communist Party fund raiser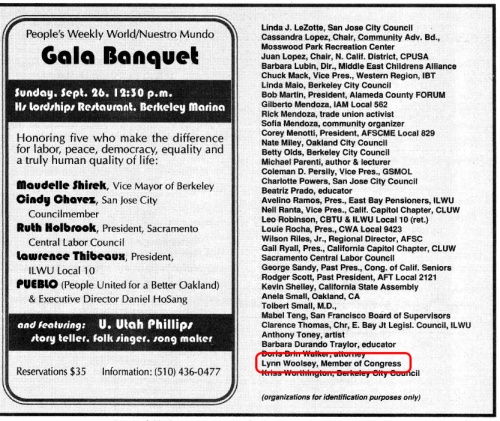 In September 1999, Coleman Persily, vice president GSMOL, co-sponsored a Communist Party USA fund raising event in Berkeley. Rep. Lynn Woolsey co-sponsored the same event.[7]
References