Anthony Toney
Jump to navigation
Jump to search
Template:TOCnestleft Anthony Toney of New York. An artist, Toney was a longtime supporter of the Communist Part USA.
Two "Index" listings for Anthony Toney, referencing hearing pages 289 and 1637 f., are found in the Special Committee on Un-American Activities (SPCUA) "Cumulative Index to All Sections of Appendix IX", Committee Print, "Appendix - PART IX, Communist-Front Organizations with Special Reference to "The National Citizens Political Action Committee" (NCPAC). It was printed by the GPO in 1944, as a guide for the overall SPCUA "Investigation of Un-American Propaganda Activities in the United States" set of hearing.
Herbert Aptheker Testimonial Dinner
On April 28, 1966 Anthony Toney was a sponsor of the Herbert Aptheker Testimonial Dinner. The dinner was held on the occasion of Herbert Aptheker's 50th birthday, the publication of his 20th book, and the 2nd anniversary of the American Institute for Marxist Studies (AIMS). It was held in the Sutton Ballroom, The New York Hilton, Avenue of the Americas, 53rd to 54th Street, New York City. Most speakers, organizers and sponsors were known members or supporters of the Communist Party USA.[1]
"A letter to Congress" on North Korea
In 1974, approximately 50 prominent, mainly Communist Party USA aligned leftists, signed a "Letter to Congress" on the situation regarding North Korea.
"For a quarter of a century the people of all Korea have needed such a peace agreement. The American People are ready for it. The People of the world deserve it. Peaceful coexistence must replace war and the threat of war. Negotiations must replace confrontation."
"Therefore, we the undersigned, concerned about the dangerous conditions in Korea earnestly appeal to you, and to all peace-minded Americans to join together in combining our reason and our political influence to secure the peaceful resolution of this problem."
The letter to Congress was in response to a March 25th, 1974 letter from the Supreme Peoples Assembly of the Democratic Peoples Republic of Korea to the United States Congress.
The signatories which included Anthony Toney Artist, urged Congress to act on North Korea's Concerns.[2]
We Will Make Peace Prevail!
On March 28, 1982 the New World Review organized a gala luncheon "We Will Make Peace Prevail! Disarmament Over Confrontation, Life Over Death", at the Grand Ballroom, Hotel Roosevelt, New York City. Virtually all participants were identified as Communist Party USA.
Anthony Toney was listed on the Committee of Sponsors.[3]
Endorsed Communist Party fund raiser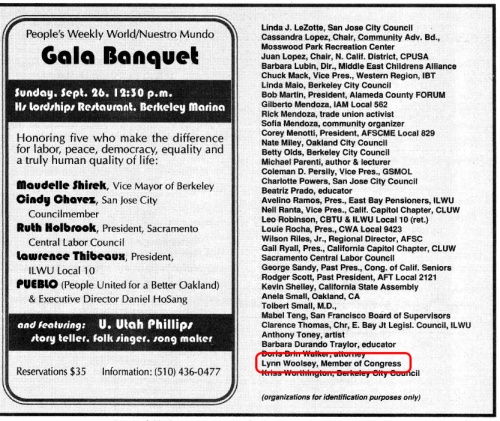 In September 1999, Anthony Toney, artist, co-sponsored a Communist Party USA fund raising event in Berkeley. Rep. Lynn Woolsey co-sponsored the same event. [4]
References