Zelig Stern
From KeyWiki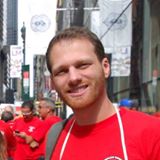 Zelig Stern is an organizer with the Communications Workers of America in New York City.
Socialist Party
In 2008 Zelig Stern was a taxi-driver, and secretary of the Socialist Party USA's New York City branch.[1]
Arrested at Occupy
The People's Forum
Bianca Cunningham February 1 2019:
Gang Gang🌹🌹 — with Jay Thompson, Clarence Adams, Leslie Fine, Joe D-Hall, Abdullah Younus, Patrick T. Shepherd, Mary Clinton, Sam Lewis, Ella Mahony, Ryan Bruckenthal, Cea Weaver, Dana Steer, Nina Svirsky, Ben Bennett, Jia Lee, Katie Halper, Kelly Gilbert, Trevor Taylor, Zyad Hammad and Zelig Stern at The People's Forum.
Revolutionary Strategies to Beat the Rising Right Wing
Revolutionary Strategies to Beat the Rising Right Wing, was a nationwide conference call organized by Freedom Road Socialist Organization, Sunday October 30, 2016.
What's the nature of this right-wing threat? What has this election cycle changed about the political terrain we're fighting on? How do we need to prepare for whats coming after the election? Hear about these crucial questions from our panel of top political strategists, including Nelini Stamp, Bill Fletcher, Jr., Linda Burnham, and Sendolo Diaminah.
Those indicating interest in attending, on Facebook included Zelig Stern.[2]
DSA
In 2017 Zelig Stern, was chairman of Democratic Socialists of America's New York chapter.
NYC DSA steering committee
New York City Democratic Socialists of America steering committee, 2018 included Zelig Stern.
South Brooklyn DSA Official Closed Group
Members of the South Brooklyn Democratic Socialists of America Official Closed Facebook Group, as of October 15, 2017 included Zelig Stern.[3]
References
↑

[NYT Inside Socialist Party Headquarters By ALAN FEUEROCT. 20, 2008]