Young Koreans United
From KeyWiki
Young Koreans United was affiliated with the United for Peace and Justice.[1]
Origins
Yoon Han Bong, a leading activist involved in the 5.18 Uprising fled political persecution by stowing away on a cargo ship for 35 days. He arrived in Seattle in 1981 and received political asylee status. In 1983, he founded the Korean Resource Center. One year later, Young Koreans United of Los Angeles was formed, eventually forming chapters nationwide and later in Canada, Australia and Europe.
Organizing capacity locally and internationally was strengthened with the international expansion as well as the formation of the Korean Alliance for Peace and Justice. Since then and until his death, Yoon educated young Korean Americans on the development of a organized movement for democracy, reunification and peace. Young Koreans United and the Korean Alliance for Peace and Justice viewed Korea as one nation, not two separate nations, and promoted the belief in a movement that is determined by the people.[2]
Comfort Women
in 2007, NAKASEC issued a press release[3] praising Representatives Mike Honda (D – CA) and Lane Evans (D – IL) for passing a "House Resolution Supporting Redress for Former Comfort Women."
"For Immediate Release
"July 30, 2007
"Contacts:
"Becky Belcore, Korean American Resource and Cultural Center (KRCC) (Now the HANA Center)
"Cliff Sukjae Lee, Young Koreans United
"Korean American Communities Applaud Passage of House Resolution Supporting Redress for Former Comfort Women
"JOINT STATEMENT ON THE UNANIMOUS BIPARTISAN PASSAGE OFHOUSE RESOLUTION 121 By:
"(Los Angeles, CA) House Resolution 121, introduced by Representative Mike Honda (D – CA), states that Japan should formally acknowledge, apologize, and accept historical responsibility in a clear and unequivocal manner, refute any claims that the issue of comfort women never occurred, and educate current and future generations "about this horrible crime while following the recommendations of the international community with respect to the 'comfort women'." Korean American communities are overjoyed with the news.
"In 2001, Representative Lane Evans (D – IL) introduced the first ever resolution to address comfort women redress. Present on that day to announce the bill's introduction was the late Soon Duck Kim, former comfort woman and a leading spokesperson from the House of Sharing (collective home for former comfort women based in Kwangju, Korea). Since that historic moment, Rep. Lane Evans and later Rep. Mike Honda have tenaciously re-introduced similar resolutions. After six years, H. Res. 121's passage brings the former comfort women one step closer to justice.
"About Comfort Women: During WWII, 300,000 women and girls were systematically raped and tortured by the Japanese military. 80% of the women were from Korea. Only 25% are estimated to have survived. Those who lived were often unable to return home out of shame and have lived a life of severe mental and physical trauma. For decades now former comfort women have shared spoken out demanding justice. But despite growing international pressure, Japan has refused to acknowledge its moral and legal responsibility, even omitting facts about wartime atrocities, including sexual slavery, from school textbooks."
Timeline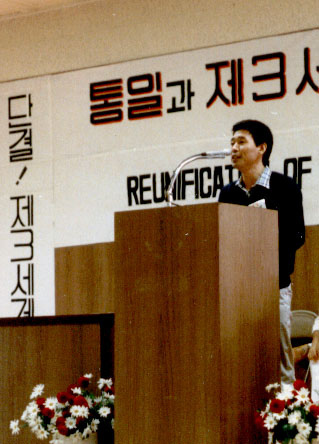 1983
1984
1985
The 5.18 Uprising Commemoration Committee formed
YKU holds conference on reunification and Third World solidarity
1986
1987
Torture death of Park Jong Chul leads to hunger strike
Korean People's Resource Centre in Sydney, Australia founded
Im Jin-taek original pansori, "TongBaDa" tours the U.S.
Yoo Hong-Joon and Kim YongTae exhibit a people's art show
Vigil in remembrance of Korean victims of the nuclear bomb
"Korea: The Nuclear Trigger of the World" photo exhibit
YKU holds international conference on democracy and reunification
Dialogue on the problems facing Korea held for general public
1988
1989
YKU's "Cry of Asia" cultural performance tours Europe and Asia The film "Oh, A Country of My Dreams" screens in the U.S.
"International March for Peace and Unification" from North to South
Korea and the U.S. Peace March"" from New York to D.C."
Participation in the European Non-Nuclear Arms Reduction Council
Three week hunger strike against proposed separate membership of the two Koreas into the U.N. and in support of a peace treaty held
1990
The film, "The Night Before Strike" tours the U.S.
Support and fundraising for "Pico Korea" workers who visit the U.S. National Teachers Union of Korea members tour North America
YKU holds conference for Peace and Self Determined Unification
Two week hunger strike and diplomatic advocacy upon the separate induction of the two Koreas into the U.N.
1991
The film "Mother, it's your Son" screens in the U.S.
Rallies in front of the U.N. in support of a peace treaty and unification that is peaceful and self determined
"Sound of Liberation" tours Europe and Australia
Support and fundraising efforts for "Pico Korea" workers
1992
The Korean Canadian Resource Center in Toronto is founded
The film "Opening the School's Gates" screens in the U.S.
Conference to Strengthen the Overseas Movement
Symposium on the future of the 2nd generation movement
Protests against NSL and to support political prisoners
In support of political prisoners, "Faceless Heroes" is screened
1993
Ahn Chi-Whan's North American tour of "Forever Pine Tree"
Telegram campaign for the withdrawal of U.S. Troops in Korea
"HanNuRi", Korean American Cultural Troupe is formed in L.A.
Washington Post ad campaign for peace and a nuclear free Korea
Participation in the World Human Rights Caucus in Vienna
"Madang" featuring Korean Japanese cultural troupe tour
March for Peace and Justice in Washington, D.C.
Support for Korean political prisoners during the harsh winter
1994
ToBakYi tours North America to mark the 5.18 Uprising
Rally for peace in Korea organized in front of the U.N.
Protest against the U.S. visit of Emperor Akahito of Japan
Conference on the development of the overseas movement Celebration of the 10th anniversary of YKU of U.S.A.
NAKASEC is established in Los Angeles
Campaign against Proposition 187 in California
2003
YKU holds weekly protests against the U.S. invasion and war in Iraq every Saturday in Koreatown, Los Angeles for one year.
Campaign for a U.S. House resolution to normalize relations between North Korea and the U.S. includes 45 legislative visits to members of Congress and 9,000 letters sent nationally.
Korea Peace Network, Jung Woo-Shik conducts a 4-city speaking tour on prospects for peace in the Korean peninsula.
2004
Participation in protests on the 1st anniversary of the Iraq War.
Participation in protests one year after Bush's victory declaration.
Ten day outreach to help the Ryong-chun explosion train victims. $4,000 is sent to the World Food Programme of the U.N.
YKU marks its 20th anniversary with "Towards Peace in Korea and the Political Empowerment of Korean Americans" conference March in front of the Republican National Convention for "Peace from Korea to Iraq" and "Immigrant Rights are Human Rights".
2005
YKU commemorates the 5.18 Uprising with Bruce Cumings on U.S.'s War on Terror and its Policy towards North Korea.
2007
Participation in international day of action calling for a resolution on redress for comfort women on the 60th anniversary of WWII.
Support for Koon-ja Kim halmoni's testimony[4], [5] at a Congressional hearing on comfort women redress. Call-in days held for H.R. 121.
March and protests on the 3rd anniversary of the Iraq War
2008
100,000 Signatures for a Nuclear-Free Korea
From April in 1988 to June 1989, for 14 months, Young Koreans United and the Korean Alliance for Peace and Justice worked with the organizations within the Korea Support Network to gather more than 100,000 signatures for the withdrawal of nuclear weapons in the Korean peninsula. The signature drive enabled YKU and KAPJ members to talk to more than 300,000 people on the need for a nuclear-free Korea. These signatures were carried as a part of the U.S. Peace March that began at the U.N. headquarters in New York to Washington, D.C. In 7 days, YKU members marched more than 150 miles.[7]
Peace from Mt. Baekdu to Mt. Hanlla
In August 1989, working in collaboration with international peace activists, YKU organized the "International Peace march for Peace and Self-Determined Unification of the Korean Peninsula." The delegation which included 120 members of YKU, 30 international allies, South Korean student activist Lim Soo Kyung, and Reverend Moon Hyun Shin, drew the world's attention. YKU members also held hunger strikes for 15 and 22 days to urge the U.N. to conclude a peace treaty and oppose the separate membership of North and South Korea into the U.N. The 22-day hunger strike in October, 1989 was the longest one ever held in front of the U.N. since the U.N.'s establishment.[8]
Food drive for North Korea
In 1996, Young Koreans United and the Korean Alliance for Peace and Justice in cooperation with the World Food Programme of the United Nations carried out two successful campaigns (North Korea Food Aid and Feed the Hungry Children) for flood victims in North Korea. Through a 4-year intensive street fundraising drive, Young Koreans United and the Korean Alliance for Peace and Justice raised $300,000 of rice and nutrition bars for the people of North Korea.[9]
External links
References