Yale Wexler
Jump to navigation
Jump to search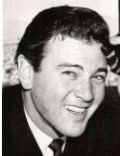 Yale Richard Wexler (1930-1996) was the brother of Haskell Wexler and the uncle of Daryl Hannah[1].
Early life
Yale Wexler was born in Chicago in 1930. Yale's father Simon Wexler, Jay Pritzker, and Henry Crown rode the train weekly from Chicago to New York when Henry Crown was building the Empire State Building. Simon's businesses, Allied Radio (which fulfilled armed forces contracts during the World War), eventually became Radio Shack.
Yale was the youngest child, a a lassmate of Andy Warhol, and father of Broadway Gene Feist, he was also in the pack of Peter Lawford, John Kennedy and Robert Kennedy[2].
Acting/theatre
A child prodigy producing on Broadway at 18, Yale discovered the "method" in New York. His Actor's Group included Marilyn Monroe, Paul Newman and Joanne Woodward. It was Yale who insisted that the group continue their "work" in Hollywood and thus was the impetus behind the film revolution in the 1950's which changed "movies" into "art". He also influenced the art of his brother Haskell Wexler, and started the career of his niece, Daryl Hannah[3].
American Civil Liberties Union
As at April 11, 1983, Yale Wexler served on the Board of Directors for the Illinois branch of the American Civil Liberties Union.[4]
Chicago Center for US/USSR Relations and Exchanges
As at May 13, 1988, Yale Wexler, Chairman of the Board, The Management Group served on the Board of Directors of the Chicago Center for US/USSR Relations and Exchanges.[5]
Women
A "true connoisseur of beauty, he made it his business to meet and "date' the world's beautiful women" including Grace Kelly, Gina Lollabridgida, Suzy Parker, was friends with Vanesa Redgrave, Christy Hefner, Jane Fonda, etc.
The "betrayal of his brief marriage" by the south American starlet Linda Cristal was a painful embarrassment, which drove him from the film business into real estate development where he collaborated with his brother, Jerry Wexler, in the building of an empire that contained 47 hotels including the World Trade Center in New York. He was member of the Academy of Motion Pictures, Chairman of the Chicago International Film Festival, NOW, ACLU, et[6]c.
Maitreya
Bored with his achievements at 60, he was teaching himself to draw and reading Zen books behind the closed doors of his Chairman's office of the Management Group at the Ambassador West Hotel in Chicago, when he met and joined in sacred marriage, the poet saint, Maitreya, "thought by many to be the most beautiful woman in the world"[7].
Through Maitreya, His Beloved, Yale was initiated into the elite wisdom societies of the orient. Their extraordinary love and philosophical dialogue was the pinnacle of his life. As president of the Murshida Corporation, Yale's final achievement was the building of the foundation for Maitreya's work worldwide.
References