Woody Guthrie
From KeyWiki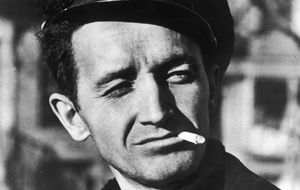 Woody Guthrie
Communist Party
Woody's Guthrie's work was regularly featured in the Communist Party USA's newspaper the Daily Worker under a column titled, "Woody Sez." During the Depression, Woody performed for Communist Party events throughout California and, after the onset of the Second World War, was an unapologetic supporter of the united front against fascism. He felt so strongly about the need to unite against Nazi Germany and the ultra-right forces of fascism that he wrote and recorded a classic workers' anthem titled "All You Fascists Bound to Lose."
Guthrie's sympathy for working-class movements, unions and the Communist Party is also apparent in his most famous song, "This Land is Your Land." The song was written in 1944 as a direct response to Irving Berlin's "God Bless America," which Guthrie criticized as being nationalistic and against the spirit of the anti-fascist united front. As a testament to Guthrie's sympathies for a Marxist critique of capitalism he included a verse in "This Land is Your Land" that is often omitted in popular renditions of this classic:
There was a big high wall there that tried to stop me; Sign was painted, it said private property; But on the back side it didn't say nothing; This land was made for you and me.
In addition to writing for the Communist Party's newspaper, he openly fraternized with Communists and attended Communist Party events. Although there is some debate over whether or not Guthrie was ever a "card-carrying member" of the Communist Party, there is little doubt about his sympathies and support for the work of the party. As Guthrie himself once said, "The best thing that I did in 1936 was to sign up with the Communist Party."[1]
References