Winona LaDuke
From KeyWiki
Winona LaDuke...
Asian/Indian left network
Bineshi Albert September 4, 2013:
Besides photos of my children and grandmothers this is the most cherished picture I have. It also capture one of my most valuable memories and lessons - laughter thru tears. These women along with a few others not in pic have shaped the woman I am today. The woman 2nd on the left is Nilak Butler and today would have been her birthday. These days when I am struggling with life's challenges I ask.
(Pictured L to R: Gerry Warledo, Nilak Butler, Bineshi Albert, Casey Camp, Jackie Warledo and JoAnn Tall).
Copied Julie Horinek, Faye Brown, Winona LaDuke, Jackie Warledo, David Tahchawwickah, Pamela Chiang, Lakota Harden and Pam Tau Lee.
Left Forum 2011
Global Warming and Economic Cooling: Causes and Fight-back Strategies:
Sponsored by: Union for Radical Political Economics
War Times
In January 2002, a group of San Francisco leftists, mainly involved with STORM or Committees of Correspondence, founded a national anti-Iraq War newspaper[1] War Times.
Endorsers of the project included Winona LaDuke, Indigenous Women's Network.
In These Times ad for a National Conference July 30-August 1, 1982 of the FFP
The Communist Workers Party front Federation For Progress put a half-page ad in the "socialist" oriented weekly newspaper, In These Times in the July 14-27, 1982 issue, p. 8, entitled: "A natural follow-up to June 12: A national conference July 30-August 1 at Columbia Un., in New York City".
It was a follow-up conference to the major "anti-defense lobby" march and protest in New York on June relating to the U.N. Second Special Session on Disarmament.
Endorsers of the event included Winona LaDuke- Anishinabbe Nation - White Earth Reservation.
Dream Reborn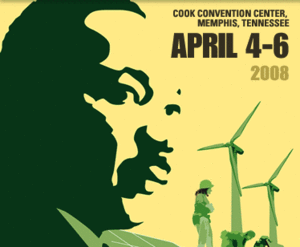 One of Green For All's project is Dream Reborn. It organized a conference to celebrate Dr. Martin Luther King, Jr on April 4-6, 2008 Memphis Cook Convention Center.[2]
Some of the presenters were Van Jones, Majora Carter (Sustainable South Bronx/Green For All), Winona LaDuke (Honor the Earth), Malia Lazu (The Gathering for Justice), LaDonna Redmond (Institute for Community Resource Development), Mary Anne Hitt (Appalachian Voices), Reverend Lennox Yearwood (Hip Hop Caucus), Adrienne Maree Brown (The Ruckus Society), Tony Anderson (Morehouse College Student Leader), Ian Kim (Oakland Green Jobs Corps) and more.[3]
References