William Greider
From KeyWiki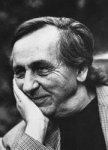 William Greider is an author of the books Fortress America, published by PublicAffairs Books, which has published authors such as George Soros.
William Greider's 40-year career as a reporter and best-selling author brought him in close proximity to very powerful people, from the White House to Wall Street, from major multinational corporations to the Federal Reserve and its awesome governing powers. Yet Greider's distinctive quality is his critical perspective. He examines power – who has it, who doesn't – in behalf of the ordinary Americans who are distant from the inner circles of America's governing elites.
Career
After the Army, Greider started his career at a very small daily newspaper, the Wheaton Daily Journal in Wheaton, Illinois, where he covered everything from school board meetings to murders. From there, he moved up to the Louisville Times in Louisville, Kentucky, and then became Washington correspondent for the Times and Courier-Journal. He and his wife, Linda Greider, also a writer, have lived in the nation's capital since 1966.
Greider joined the national staff of the Washington Post in 1968 and was a correspondent for a dozen years, eventually becoming the assistant managing editor directing national coverage. He also edited Outlook, the Post's Sunday opinion section, and wrote a weekly column called "Against the Grain."
Writing
In 1981, he wrote a controversial account of the Reagan administration titled "The Education of David Stockman," based on a series of private interviews with Reagan's budget director. Published in the Atlantic Monthly, "the article revealed the fallacies and contradictions of Reaganomics in intimate detail and caused a sensation among Washington politicians and policy makers." An expanded version became Greider's first book,The Education of David Stockman and Other Americans (Dutton 1982).
Next Greider made a surprising career move. He left the prestigious Washington Post and elite circles in Washington to join Rolling Stone, the magazine of popular culture. For the next 17 years, Greider wrote a regular political column for Rolling Stone while he produced a string of best-selling books.
Secrets of the Temple: How the Federal Reserve Runs the Country (Simon and Schuster 1987) is Greider's monumental account of how the American central bank, cloistered and protected from public accountability, exercises its control over the US economy – workers, consumers, investors. The book has sold 300,000 copies and remains in print 20 years later.
Who Will Tell the People: The Betrayal of American Democracy (1992) is a close-in account of how politics and representative self-government have become deformed and decayed. Washington rejected the analysis, not surprisingly, but the book was on the New York Times bestseller list for 20 weeks.
One World, Ready or Not: The Manic Logic of Global Capitalism (1997) explained the dynamics of the globalizing economy and predicted the financial disorders that followed a few years later as well as the huge trade deficits and foreign indebtedness that now burden the US. Based on reporting on three continents, the book explores the drama of industrial revolution, from peasants becoming industrial workers to the highest realms of global finance. The book was published in six foreign countries including China.
Fortress America: The American Military and the Consequences of Peace (Public Affairs 1998). This short book grew out of a series of articles in Rolling Stone, finalist in the National Magazine Awards. Touring the armed services and the manufacturing side of the military-industrial complex, Greider explained the post-Cold War dilemmas for a massive armed country in search of a war.
The Soul of Capitalism: Opening Paths to a Moral Economy (Simon and Schuster 2003) makes this provocative assertion: US capitalism can be reformed in profound ways and people in and out of the system are working on it. From financial investing to worker ownership, Greider explained the qualities within capitalism that lead to its destructive dominance of American society and showed the leverage points by which these can be altered.
Greider's latest book – Come Home, America: The Rise and Fall (and Redeeming Promise) of Our Country (Rodale 2009) – describes the epic turning point in our nation's history driven by financial crisis, economic deterioration and other fundamental adversities. The country faces a hard passage ahead. The fateful question is whether we can emerge on other side as a better country with more-fulfilling, self-directed lives for all. This is possible, the book insists, but only if the people themselves step up and reclaim their role as citizens in the full meaning.[1]
Congressional Progressive Caucus
In 1997 Chicago DSA member Bruce Bentley wrote;
There is a class struggle in process in the Congress with the Progressive Caucus around such issues as the Welfare Bill, NAFTA and Single Payer Health Care.
As a result of this DSA's Political Director Christine Riddiough organized a meeting with the Congressional Progressive Caucus with the purpose and cogent task as to: "How can we unite our forces on a common agenda?" Those in attendance included Richard Trumka, Noam Chomsky, Patricia Ireland, William Greider and Jesse Jackson.[2]
"The Progressive Challenge: Capitol Hill Forum"
On January 9, 1997, over 600 people attended "The Progressive Challenge: Capitol Hill Forum" sponsored by the House Progressive Caucus, Democratic Socialists of America, and a host of other progressive organizations.
The primary goal of this day-long "kick-off" forum was to "identify the unifying values shared by progressives at this point in US history, to help define core elements of a forward-looking progressive agenda, and to pinpoint ways to connect that agenda with the concerns of millions of disillusioned people who lack voices in present politics and policy-making."
After a welcome by Representative Bernie Sanders, an impressive array of legislators, activists, and thinkers offered their insights. Senator Paul Wellstone, Reverend Jesse Jackson, Patricia Ireland of NOW, Richard Trumka of the AFL-CIO, Noam Chomsky, William Greider of Rolling Stone, and DSA Honorary Chair Barbara Ehrenreich were among the many who spoke.
Some emphasized the importance of the conventional, if difficult, process of progressive candidates building grassroots campaigns that treat voters with intelligence and challenge prevailing wisdom regarding what values and issues motivate ordinary Americans struggling to make ends meet-as opposed to using polls and focus groups to concoct "designer" campaigns to appeal to upscale "soccer moms." Other speakers reminded those present that great changes are made by people acting outside of the corridors of power to define justice and "political reality," and the electoral and legislative processes are not the only arenas worthy of activists' attention.[3]
"Is the Pentagon Budget Increase Needed?"
February 3, 1999 Council for a Livable World convened a seminar in Rayburn House on "Is the Pentagon Budget Increase Needed?"
Participants were;
"Inequality Matters"
In 2004 United for a Fair Economy, a Boston "economic justice think tank", co-sponsored a national conference on inequality. Some of the conference papers were published as "Inequality Matters: the Growing Economic Divide in America", which also included suggested public policies to counteract it. Among the contributors were Betsy Leondar-Wright, William Greider, Meizhu Lui, Bob Kuttner and Christopher Jencks.[5]
Chicago DSA honor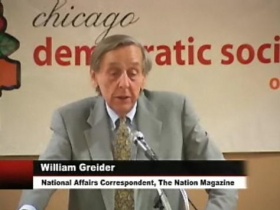 The 2010 Chicago Democratic Socialists of America Debs-Thomas-Harrington Dinner gathered together people representing Chicago's legal, labor, liberal, and left communities to honor the People's Law Office and the United Electrical Workers' Western Regional President Carl Rosen, with author William Greider as featured speaker and Kim Bobo as master of ceremonies.[6]
2011 11th Annual Detroit Douglass-Debs Dinner
Over 200 people attended the 12th annual Frederick Douglass-Eugene V. Debs Dinner on October 1st at UAW Local 600 in Dearborn. The dinner honored Reverend Ed Rowe, senior pastor at Central United Methodist Church, and the Restaurant Opportunities Center of Michigan (ROC-Michigan). Reverend Rowe was honored for his lifetime commitment to social justice, civil rights, and workers' rights. The event honored ROC-Michigan for its recent successful campaign to improve wages and working conditions at Andiamo Restaurant. Congressman Hansen Clarke presented congressional citations to both awardees.
The dinner co-chairs were Metropolitan Detroit AFL-CIO President Saundra Williams and UAW Vice-President James Settles, Jr. The Bill Meyer Group provided entertainment and led the audience in singing "Solidarity Forever" and "The Internationale." Keynote speaker was William Greider, national affairs correspondent at The Nation.
Greider charmed the audience with his anecdotes. At one point, when queried as to whether he was a socialist, Greider replied, "Not yet, but if you folks get your act together, I may become one." In his prepared remarks, Greider emphasized the importance of the housing crisis in dragging down the nation's economy. He described a "death spiral" in which home foreclosures depress the prices of surrounding homes thereby causing the owners of those homes to go "underwater" on their mortgages leading to a cascade of new foreclosures. He advocated that the Obama administration issue an executive order to Fannie Mae and Freddie Mac instructing them to write down the principal on mortgages they hold in order to allow people to remain in their homes. By lowering homeowners' monthly mortgage payments in this way, not only would the "death spiral" be halted, but people would have more disposable income, thereby stimulating the economy.
DSA National Director Maria Svart also addressed the Douglass-Debs Dinner.[7]
The Nation
In 2009 William Greider was listed as National affairs correspondent of The Nation[8].
External links
References