William Camacaro
From KeyWiki
William Camacaro
Committee to Celebrate the Life of Luis Miranda Rivas
In 2009 William Camacaro was a member of the Committee to Celebrate the Life of Luis Miranda Rivas.[1]
"New Cold War"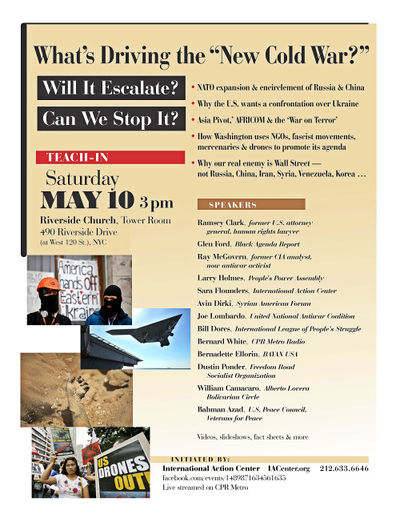 New York City: What's driving the new 'Cold War'? Will It escalate? Can we stop it?
Teach-In: Saturday, May 10 2014 Riverside Church, Tower Room.
NATO expansion and encirclement of Russia & China
Why the U.S. wants a confrontation over Ukraine
'Asia Pivot,' AFRICOM & the 'War on Terror'
How Washington uses NGOs, fascist movements, mercenaries & drones to promote its agenda
Why our real enemy is Wall Street – not Russia, China, Iran, Syria, Venezuela, Korea …
Speakers:
Venezuelan connection
Students & Youth for a New America June 3, 2017
SYNA organizers Dakotah Lilly and Dyln Namm with Venezuelan Ambassador to the UN Rafael Carreno, and Solidarity Activist William Camacaro, and journalist Caleb Maupin.
References