Weather Underground Organization
From KeyWiki
Weather Underground Organization was founded in 1969 as an underground, terrorist faction of Students for a Democratic Society.[1]
Weathermen Flint "War Council"
December 27-31, 1969, about 400 of the national membership of the Weatherman faction of Students for a Democratic Society held a "War Council" at a ballroom dancehall in Flint, Michigan. Posters of a giant cardboard machinegun, Ho Chi Minh, Che Guevera, and Fidel Castro hung everywhere.
Among the attendees of the "War Council in Flint" identified by the Flint police department and/or its informant were: Michael Avey, Karen Ashley, Bill Ayers, Edward Benedict, Margaret Bennett, Douglas Bernhardt, Jeff Blum, Harvey Blume, David Chase, Peter Clapp, Judy Clark, Bernardine Dohrn, Diane Donghi, Linda Evans, Brian Flannigan, David Flatley, John Fuerst, Lynn Ray Garvin, Bert Garskof, Michele Garskoff, Mark Glasser, Theodore Gold, Lenny Handlesman, Ann Hathaway, Karen Hardiman, Daniel Hardy, Tom Hayden, Phoebe Hirsch, Arthur Hochberg, Anne Hodges, John J. J. Jacobs, Jeff Jones, Sam Karp, David Klafter, Dianne Kohn, Peter Kuttner, Bradford Lang, Stephen Lang, Karen Latimer, Jonathan Lerner, Naomi Lev, Bradford Long, Alan Maki, Eric Mann, Howard Machtinger, Carol McDermott, L.R. Meadows, Lisa Meisel, Jeff Melish, James Mellen, David Millstone, Russell Neufeld, Diana Oughton, John Pilkington, Edward Purtz, Jonah Raskin, Natalie Rosenstein, Dennis Roskamp, Mark Rudd, Karen Selin, Mark Shapiro, Janet Snider, Mike Spiegel, Jane Spiegelman, Marsha Steinberg, David Sole, Susan Stern, Clayton Van Lydegraf, Cathy Wilkerson and Mary Wozniak[2].
Weathermen and the Venceremos Brigade
CBC documentary 1982, on Venceremos Brigade and Cuban Intelligence
In 1969, those members of SDS who would later become the Weathermen, helped to set up the Venceremos Brigade (VB), to provide cover for sending operatives to Cuba for training by the Cuban intelligence service, the DGI.[3].
Praire Fire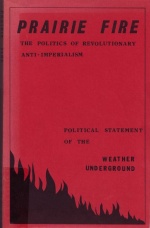 Osawatomie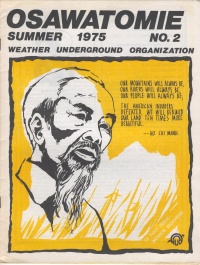 Hard Times Conference
The Weather Underground Organization helped organize and lead the Hard Times Conference with the Prairie Fire Organizing Committee at the University of Illinois Circle Campus in Chicago, from January 30 to February 1, 1976.
Brinks robbery
After the WUO dissolved in 1977-78 and most of its members turned themselves in to state authorities, there remained a leftover grouplet connected to members of the May 19 Communist Organization (an aboveground group linked to the WU which functioned in the New York area between 1978 and 1985) that was critical of any compromise with the state. It was this small group that, in tandem with elements of the Black Liberation Army, carried out the armed Brinks robbery in 1981, during which two police officers were killed[4].
Wanted!
Government Publications Concerning the Weatherman Underground Organization (WUO)
"Extent of Subversion in Campus Disorders: Testimony of Max Phillip Friedman," Part 2, SISS, August 12, 1969 (precursor information on the SDS faction (RYM I)that announced its "Days of Rage" in Chicago, Oct. 1969, and became the Weatherman (with names)
"Anatomy of a Revolutionary Movement: 'Students for a Democratic Society'", Report, HISC, October 6, 1970
"Terrorism: A Staff Study", House Internal Security Committee (HISC), August 1, 1974
"State Department Bombing by Weatherman Underground", Hearing, Senate Internal Security Subcommittee (SISS), January 31, 1975
"Terrorist Activity: Interlocks Between Communism and Terrorism", Part 9, SISS, May 7, 1976
External links
References