Ward Churchill
Jump to navigation
Jump to search
Template:TOCnestleft Ward Churchill
Radical Scholars & Activists Conference
In 1993 Ward Churchill, Native American scholar was a featured speaker at the Midwest Radical Scholars & Activists Conference. The theme of the conference was, "Popular Empowerment in the Clinton Era". The conference was held between Oct. 29 - 30, 1993 at Loyola University, Chicago.[1]
Oakland panel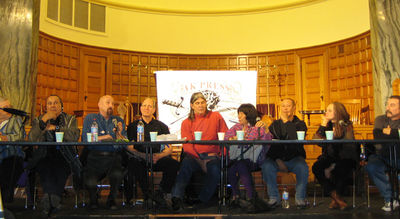 On December 4, 2005 Brooke Anderson arrived at the First Unitarian Church of Oakland, just a few blocks away from her new home in Oakland, California, to see Barry Romo on a panel convened by AK Press and KPFA. Having recently moved from Champaign, Illinois and missing my friends, I reveled in the idea of Barry and VVAW coming to Oakland, even if only for the evening.
The panel was called "The Future of Struggle: Movement Veterans Discuss Yesterday's Lessons for Today." The idea was to have key figures from various radical movements discuss lessons learned over the last four decades of organizing, how these lessons could be applied to work being done today, and how to move forward.
In addition to Barry Romo, the panel featured Kathleen Cleaver (Black Panther Party), Russell Means (American Indian Movement), Mike James (Students for a Democratic Society and Rising Up Angry), Elizabeth Martinez (Chicana activist and author), Ward Churchill (American Indian Movement), Bo Brown (George Jackson Brigade) and a former member of I Wor Kuen. [2]
Free Mumia Abu-Jamal
In 2008 Ward Churchill, Colorado AIM signed a statement circulated by the Partisan Defense Committee calling for the release of convicted "cop-killer" Mumia Abu-Jamal.[3]
"Support Bill Ayers"
In October 2008, several thousand college professors, students and academic staff signed a statement Support Bill Ayers in solidarity with former Weather Underground Organization terrorist Bill Ayers.
In the run up to the U.S. presidential elections, Ayers had come under considerable media scrutiny, sparked by his relationship to presidential candidate Barack Obama.
We write to support our colleague Professor William Ayers, Distinguished Professor of Education and Senior University Scholar at the University of Illinois at Chicago, who is currently under determined and sustained political attack...
We, the undersigned, stand on the side of education as an enterprise devoted to human inquiry, enlightenment, and liberation. We oppose the demonization of Professor William Ayers.
Ward Churchill of the Martin Luther King Collegium of Scholars signed the statement.[4]
Anarchist book fair
Bound Together Bookstore presented the first Bay Area Anarchist Book Fair on March 30, 1996.
Speakers for the 2010 book fair included: Yantra Bertelli, Terry Bisson, Ward Churchill, John Curl, Diane DiPrima, John Duda, Matt Hern, Luis A. Fernandez, Peter Gelderloos, Andrej Grubacic, Owen Hill, Lierre Keith, Margaret Killjoy, Ernesto Longa, Carlos Martinez, Jason McQuinn, Keith McHenry, Tommi Avicolli Mecca, Cindy Milstein, Patrick Reinsborough. Kim Stanley Robinson, Penelope Rosemont, Sarah Talbot, Kristian Williams and John Zerzan. [5]
References