Walda Katz-Fishman
Jump to navigation
Jump to search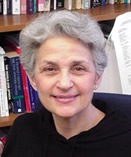 Template:TOCnestleft Walda Katz-Fishmanis active in social justice movement organizations, including the League of Revolutionaries for a New America, and is former chair of Project South.[1]
Walda Katz-Fishman combines her research in class, race, and gender inequality and political economy with developing popular education and political organizing in struggles to transform society. She is a professor of Sociology at Howard University, former Board Treasurer of Project South: Institute for the Elimination of Poverty & Genocide; an Associate Editor of Social Problems, an Editorial Board member of Race, Sex & Class: An Interdisciplinary Journal, and former chair of the Section on Racial and Ethnic Minorities of the American Sociological Association.[2]
World Courts of Women
February 2014
Participants at the World Courts of Women in Philadelphia. The women are (from left to right) Walda Katz-Fishman, Cheri Honkala, Corinne Kumar, Rose Brewer, and Jill Stein.
Collective and community rights:
The People's Tribune met with four leaders of the World Courts of Women in Philadelphia: World Courts of Women Founder Corinne Kumar, Poor People's Economic Human Rights Campaign Director Cheri Honkala, University of Minnesota Professor Dr. Rose Brewer, and Green Party 2012 presidential candidate Dr. Jill Stein. The World Courts of Women are public hearings held in countries around the world to document the lives of women, their human rights, their visions, and their strategies.[3]
Black anti-Columbus group
Ona Alston, Abdul Alkalimat, Bill Fletcher, Jr., Monica Jackson, Ralph Gomes, Cynthia Larimore, Jerome Scott, Cornell Locklear, Leo Oso, Walda Katz-Fishman, were on the working group for a conference to discuss an "Afro-Centric Counter-Columbus commemoration" Bill Fletcher, Jr. wrote about the group "In search of our truth, and our future" inFreedom Road Socialist Organization's Forward Motion, December 1991 issue.
Project South Leadership transition
2007, first U.S. Social Forum converges over 20,000 people in Atlanta, Project South serves as anchor organization. Historical transition of founders Jerome Scott, Director (staff) and Walda Katz-Fishman, Board Chair. PS creates the Executive Leadership Team (ELT) – Christi Ketchum, Emery Wright, Stephanie Guilloud & Will Cordery.[4]
For May Day and Beyond
For May Day and Beyond: White People Stepping Up for Immigrant Rights! was a letter circulated in May 2006, among people mostly affiliated with the Freedom Road Socialist Organization.
Open Letter to White Communities
In the past month, five million people, mostly immigrants of color, have mobilized for justice and are making history, flooding the streets in unprecedented numbers. Meanwhile, the most visible participation by white people is coming from the racist and right wing leaders who are defining and dominating the debate in the Federal government and in the news, radio and opinion pages. Where are the voices of anti-racist white people in this crucial moment, when the worst anti-immigrant legislation in decades is still poised to drop?
Signatories included Walda Katz-Fishman, Project South. [5]
US Social Forum National Planning Committee
Contact Sheet for the National Planning Committee of the U.S. Social Forum, Detroit 2010. Original April 09, 2009, Updated February 23, 2010.
Left Forum 2010
What Does it Mean to be a Revolutionary in Our Times?:
The US Social Forum and US Social Movements: The Road from Atlanta to Detroit 2010:
Left Forum 2012
The Occupy Motion and the Revolutionary Process
Washington Peace Center award
On December 8, 2010, the Washington Peace Center hosted their 6th Annual Activist Awards Grassroots Gala, at All Souls Church and" celebrate the hard work and successes of DC activists in creating a more just and peaceful world." IPS takes pride that our very own Marc Raskin is one of the recipients of this year's Activist Award! Join us for the activist party of the season!
The awardees were:[6]
"A stronger global movement"
Sunday 18 November 2012, in Washington DC The Lucy Gonzalez Parsons Institute for Education and Justice convened "How can we build a stronger global movement, and what will it take to win? Hear perspectives on movement building from the US and the Philippines!"
With Bill Fletcher, Jr. Author, They're Bankrupting Us! And 20 Other Myths about Unions Co-Author, Solidarity Divided: The Crisis in Organized Labor and a New Path toward Social Justice, Barbara Ehrenreich Author, Nickel and Dimed: On (Not) Getting by in America and Bait and Switch: The (Futile) Pursuit of the American Dream, and Elmer Labog (via video) National Chairperson, Kilusang Mayo Uno, May First Workers Center in the Philippines.
Those signalling there intention to attend via the Wherevent website included Jon Liss, Cameron Barron, Graziela Santos, Samantha Miller, Sapna Pandya, Jane English, Naomi Demsas, Mishy Leiblum, Mackenzie Baris, Virginia Leavell, Betty Garman Robinson, Walda Katz-Fishman, Lillian Diallo, Liana Dalton, Rosa Lozano, Isaiah Toney, Rishi Awatramani, Shane Stewart, Chuck Hendricks - most of whom were associated with the Freedom Road Socialist Organization.[7]
Speakers for a New America
Circa 2015 Walda Katz-Fishman was part of Speakers for a New America, the speakers bureau for League of Revolutionaries for a New America.
References