W. T. Whitney
From KeyWiki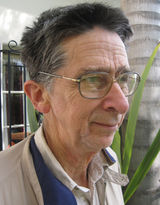 W. T. (Tom ) Whitney grew up on a dairy farm in Vermont and now lives in rural Maine. He practiced and taught pediatrics for 35 years and was active in the Cuba solidarity movement, working with Let Cuba Live of Maine, Pastors for Peace, and the Venceremos Brigade. He writes on Latin America and health issues for the People's World[1].
Venceremos Brigade
In 2004, the 35th Anniversary Contingent of the Venceremos Brigade arrived in Santiago de Cuba on July 4, for a week of work, meetings and travel in the eastern part of Cuba. In Santiago they stayed at the Abel Santamaria School, where they helped to renovate the school building, as well asmone other school in the province. Among their activities have been meetings with members of the Women's Federation of Cuba and with Cuban veterans who fought against Apartheid South Africa; Brigade members been named welcomed as "Distinguished Visitors" by Santiago city officials.
"I would like to demonstrate to the Cuban people that there are Americans, inside our borders, who like them and with them, stand up against U.S. bullying," says Tom Whitney, a 68 year old doctor and a leader of a local group called Let Cuba Live in Maine[2].
Communist Party USA
In September 2006 the Peoples Weekly World[3]listed two members of the Tampa Bay Club, Communist Party USA.
Tony Ryan, W. T. Whitney.
Peoples World personnel
As at December 2010, personnel of the Communist Party USA paper, Peoples World, ;[4]
Editorial Board
Bureau Chiefs and National Contibutors, Juan Lopez (N. Calif.), Rossanna Cambron (S. Calif.), Joelle Fishman (Conn.), John Bachtell (Ill.), John Rummel (Mich.), Tony Pecinovsky (Mo.), Dan Margolis (N.Y.), Rick Nagin (Ohio), Libero Della Piana, Scott Marshall, Elena Mora, Emile Schepers, Jarvis Tyner, Sam Webb
Maine Peace Council
In 2012, W. T. Whitney was active in the Maine Peace Council.[5]
Party builder
In 2014, Wadi'h Halabi and Sandy Rosen of Massachusetts, and Tom Whitney of Maine submitted "Two ideas to Build the Party Today": to the 30th National Convention, CPUSA, Convention Discussion.
References