W.E.B. DuBois
Jump to navigation
Jump to search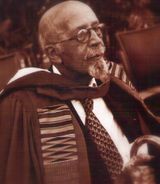 Template:TOCnestleft W. E. Burghardt DuBois was married to Shirley Graham.
Scientific and Cultural Conference for World Peace
W.E.B. DuBois was a sponsor of the Scientific and Cultural Conference for World Peace which ran from March 25 - 27, 1949 in New York City. It was arranged by a Communist Party USA front organization known as the National Council of the Arts, Sciences, and Professions. The conference was a follow-up to a similar gathering, the strongly anti-America, pro-Soviet World Congress of Intellectuals which was held in Poland, August 25 - 28, 1948.[1]
SNYC conference
In 2018 South Carolina Progressive Network published a booklet, HISTORY DENIED: Recovering South Carolina's Stolen Past by Becci Robbins. Its content is a substantive introduction to the Southern Negro Youth Congress (SNYC) and the vanguard radical labor organizing among interracial youth in the severely segregated South between 1937 and 1949. Specifically, this tells of a landmark Congress convened in Columbia, South Carolina in October of 1946.
This event had in active participation such Freedom Movement notables as local South Carolina youth leaders in addition to Paul Robeson, Herbert Aptheker, Dorothy Burnham and Louis Burnham, Esther Jackson and James Jackson, Louise Patterson, Sallye Davis, Jack O'Dell, South Carolina's Modjeska Simkins and the Congress' Keynote Speaker, Dr. W.E.B. DuBois, who gave a speech, BEHOLD THE LAND, which "has been a must read' for all young activists ever since".[2]
The Council on African Affairs, Inc.
The Council on African Affairs, Inc. officers circa 1950;[3]
Vernon Jarrett and Barack Obama
Vernon Jarrett was a fan of Barack Obama. He watched his career from its early stages and became an influential supporter.
In 1992 Obama worked for the ACORN offshoot, Project Vote to register black voters in aid of the Senate Campaign of Carol Moseley Braun-who had strong Communist Party USA ties and was Harold Washington's legislative floor leader.
Obama helped Carol Moseley Braun win her Senate seat, then took it over himself in 2004-backed by the same communist/socialist alliance that had elected Washington and Moseley Braun.
Commenting on the 1992 race, Vernon Jarrett wrote in the Chicago Sun-Times of August 11th 1992;
Good news! Good news! Project Vote, a collectivity of 10 church-based community organizations dedicated to black voter registration, is off and running. Project Vote is increasing its rolls at a 7,000-per-week clip...If Project Vote is to reach its goal of registering 150,000 out of an estimated 400,000 unregistered blacks statewide, "it must average 10,000 rather than 7,000 every week," says Barack Obama, the program's executive director...
Dee Myles, a Chicago based chair of the Education Commission of the Communist Party USA penned a tribute to Vernon Jarrett, for the People's Weekly World of June 5th, 2004.
Readers like me can be extremely selective of the journalists we read habitually... We are selective about the journalists to whom we become insatiably addicted, and once hooked we develop a constructive love affair without the romance...
Such was my experience with Vernon Jarrett, an African American journalist in Chicago who died at the age of 86 on May 23. I became a Vernon Jarrett addict, and I am proud of it!
Vernon Jarrett's career as a journalist in Chicago began and ended at the Chicago Defender, the African American daily paper. In between, he was the first Black journalist at the Chicago Tribune, and I first began to read his articles during his tenure at the Chicago Sun-Times.
Jarrett's claim to fame is that he was a partisan of the cause of African Americans in the broad democratic tradition of Paul Robeson and W.E.B. DuBois...
Paul Robeson and W.E.B. DuBois were both Communist Party USA members. On April 9th, 1998 at Chicago's South Shore Cultural Center, Vernon Jarrett hosted a Paul Robeson Citywide Centennial Celebration event, with his old comrade and Party sympathiser Margaret Burroughs and former Communist Party USA members Studs Terkel and his old friend Oscar Brown, Jr.
Dee Myles went on to say;
Jarrett was fanatical about African Americans registering and voting in mass for socially conscious candidates. He championed Harold Washington like a great warrior, and this March, from his hospital bed, wrote an article appealing to Black Chicago to turn out to vote for Barack Obama in the Illinois primaries. Obama astounded everyone with an incredible landslide victory as the progressive, Black candidate for the Democratic Party nomination for the U.S. Senate seat from Illinois. From his sickbed, Vernon Jarrett issued a clarion call, and the people responded.
Carlton Goodlett supported Marxists W.E.B. DuBois and Paul Robeson in visits to San Francisco.
"Carlton convinced Rev. Haynes to let DuBois and Robeson speak at Third Baptist. No one else would welcome them."
Goodlett was a member of the World Peace Council and traveled many times to the Soviet Union and other socialist countries. Goodlett visited Vietnam in 1975[4].
In 1962, Goodlett participated in a disarmament conference in Moscow. During the 1960s and 1970s, his opposition to nuclear weapons and his participation in the World Peace Council led him to make several trips abroad to cities such as Stockholm, East Berlin, Prague, Budapest, and Copenhagen[5].
In 1970 Goodlett attended a World Peace Conference in Stockholm where he was awarded the Lenin Peace Medal[6].
W.E.B. DuBois joins the Communist Party
In 1961 W.E.B. DuBois joined the Communist Party USA;
I was early convinced that socialism was an excellent way of life, but I thought it might be reached by various methods Today I have reached a firm conclusion: Capitalism can not reform itself; it is doomed to self-destruction. No universal selfishness can bring social good to all. In the end communism will triumph. I want to help bring that day.
W. E. B. Du Bois requesting membership in the Communist Party USA, 1961.[7]
Meeting Mao
Science & Society
Science & Society is a quarterly journal of Marxist thought and analysis. Published without interruption since its inception in 1936. With a press run of about 2,500 copies, the journal reaches 565 individual subscribers, of whom 475 are in the United States and 90 reside in other countries. S&S also has 800 library and other institutional subscribers, both in the United States and abroad.
In its early years, Science & Society played a unique role in providing a home for scholarship in the Marxist tradition. It attracted contributors from many countries, and was a major site of interaction among Marxist researchers in capitalist countries and those working in the Soviet Union and Eastern Europe. The British "social relations of science" movement was well represented, including some of that school's leading figures, such as J. B. S. Haldane, Hyman Levy and J. D. Bernal. Also from Britain, political economists such asMaurice Dobb, and historians such as Eric Hobsbawn and Christopher Hill, contributed regularly; in this way, S&S played a role in the early development of the British Marxist Historians school. In the United States, leading figures in history, literature and the social sciences, such as Joyce Adler, Herbert Aptheker, M. F. Ashley Montagu, W. E. B. DuBois, Abraham Edel, Lewis S. Feuer, Philip S. Foner, Margaret George, Alvin W. Gouldner, Irving Louis Horowitz, Corliss Lamont, Eleanor Burke Leacock, Robert S. Lynd, Robert K. Merton, June Nash, Joan Robinson, and William Appleman Williams, among many others, wrote articles and reviews for the journal.
Science & Society was founded, after a developmental period of several years that involved two main centers: one group in Boston, led by the MIT mathematician Dirk Struik, and another in New York, with significant participation from faculty members at New York University. Founding editor Margaret Schlauch, the distinguished linguist and medievalist, was a member of the English Department at New York University, as was Edwin Berry Burgum, another S&S founding editor. Dr. Annette T. Rubinstein, who was not a founding editor but joined the Editorial Board in the 1960s and was active with the journal until her death in 2007 at age 97, also taught briefly at NYU, where there was a concentration of S&S activism in the first period of the journal's existence.
One particularly influential contribution arose as a result of Paul Sweezy's 1950 essay on Maurice Dobb's Studies in the Development of Capitalism, which developed into a full-fledged controversy involving, in addition to Dobb and Sweezy, Rodney Hilton, H. K. Takahashi, and Christopher Hill, subsequently published in book form as The Transition from Feudalism to Capitalism, under the editorship of Hilton. This "first round" debate in the theory of social transformation set the stage for the later "Brenner Debate" on the transition to capitalism, and has often been revisited in recent years in S&S.
In the early decades, Science & Society had a strong base in the non-academic political left, in a time when "ordinary" working people felt comfortable studying political economy, reading critiques of the leading mainstream intellectual figures of the time, or debating the "situation in the biological sciences" (S&S was an early critic of T. D. Lysenko). There were "friends of Science & Society" clubs in various cities throughout the United States, and the journal also achieved an international reputation. It should be noted that, while S&S was in (what could be called, in that period) the Marxist mainstream, and some of its authors were aligned with or sympathetic to the Communist parties, the journal has always been organizationally independent, never affiliated with or funded by any political party or institution.[8]
References