Vivian Hallinan
From KeyWiki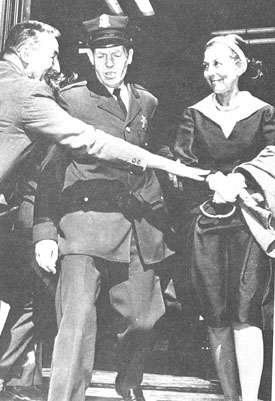 Vivian Hallinan was the wife of Vincent Hallinan, an American lawyer and a candidate for President of the United States for the Progressive Party in the 1952 election. Vivian was accused of being a Communist Party USA member.[1]
Mrs. Hallinan, who was 88, died March 1999 at the Berkeley home of her son Matthew Hallinan.
Although Vincent Hallinan, an atheist who once sued the Catholic Church to prove the existence of God, was publicly perceived as the more radical of the pair, Vivian Hallinan fueled the family's political fire, two of her sons said.
"She was really the heart and soul of our family's political philosophy," said Patrick Hallinan, her eldest son. "My father resented the abuse of political authority, but my mother had a focus. She was a very commited radical socialist."
Mrs. Hallinan combined a dedication to her family, prowess in real estate and political passion.
U.S. Representative Nancy Pelosi, D-San Francisco, said that Vivian Hallinan showed women they could combine family and politics. "She was a role model for many of us," Pelosi said. "If Vincent was the lion, Vivian was the lioness."
She was survived by five sons, Patrick Hallinan, of Kentfield; Terence Hallinan, of San Francisco; and Matthew Hallinan, an anthropologist, David Hallinan, a travel consultant, and Conn Hallinan, a journalism professor, all of Berkeley; 18 grandchildren; and one great-grandchild. Another son was Michael Hallinan.[2]
Background
Mrs. Hallinan was born Vivian Moore on Oct. 21, 1910, in San Francisco. Her father was Irish, her mother Italian, her family blue-collar.
Her father abandoned the family early, and she hardly knew him, said Patrick Hallinan. And though her mother was more present, Mrs. Hallinan was raised mostly by her mother's relatives.
Mrs. Hallinan attended Girls' High School, a now-defunct private Catholic school in San Francisco. She was admitted to UC-Berkeley but quit after two years to support herself by working in retail shops, Patrick Hallinan said. She never graduated.
She soon met Vincent Hallinan on a blind date. He was 13 years older and already a famous liberal lawyer.
They were married in 1932, an occasion reported by the late FBI Director J. Edgar Hoover as "a case of one warped personality marrying another."
The excitement began promptly. As the couple left for their honey moon, Vincent Hallinan was jailed for contempt of court for refusing to surrender a client in a murder case. One headline read: "Hallinan goes to jail, bride goes home."
Mrs. Hallinan's striking beauty, with brunet hair and hazel eyes, was part of her persona, said long time communist Doris Brin Walker, a radical San Francisco lawyer and longtime friend of the Hallinans'.
"She always looked great," Walker said, "but it was not the most important part."
The Hallinans first lived in a Nob Hill apartment on Sacramento Street. About two years later, they had the first of six sons. (Their fourth son, Michael, later died.)
During the Depression, Mrs. Hallinan began investing some of her husband's legal earnings in real estate, refurbishing abandoned buildings and eventually building the family fortune, said Terence Hallinan, her second-born.
Although Mrs. Hallinan held "socialist" views - ideas that people should be guaranteed a decent living, that there should racial equality and an end to war - she never joined any socialist or communist party and was a life-long Democrat, said Patrick Hallinan.[3]
Activism
Vivian Hallinan was one of San Francisco's early civil rights activists, renting and selling homes to African Americans. Her efforts earned the enmity of other real estate agents and her own neighbors, her sons said.
In 1945, the Hallinans moved to politically conservative Ross in Marin County, because it had the best public schools. They bought a a 22-room house with its own gym and an Olympic-size pool.
But times got hard. In 1950, Mr. Hallinan was sentenced to six months in McNeil Island prison for a contempt citation he got while successfully defending union leader Harry Bridges against charges of being a communist.
In 1952, after Mrs. Hallinan persuaded her husband to campaign for president on Henry Wallace's Progressive Party ticket, the couple were indicted for tax evasion. She was acquitted, but he was sentenced to two years in jail.
The government seized some of the family's real estate holdings, said Terence Hallinan. And Doubleday refused to print more copies of a national best-seller she had written about her family, "My Wild Irish Rogues," Patrick Hallinan said.
Hoover had branded the book as "a flagrant employment of the Communist Party line, including references to racial discrimination and vicious attacks on the U.S. government."
But Mrs. Hallinan was unfazed: She sustained the family with her real estate business and continued her jailed husband's presidential campaign on his behalf.
Mr. Hallinan was disbarred and in jail during most of the '50s, and Mrs. Hallinan remained under Hoover's scrutiny.
In 1964, she and sons Patrick and Matthew were arrested while sitting-in at San Francisco's "auto row," the car dealers that then lined Van Ness Avenue, protesting their failure to hire African Americans. She served 30 days in county jail.
She helped organize anti-Vietnam war demonstrations, leading a march of 5,000 women in Washington, D.C.
She headed the San Francisco chapter of the Women's International League for Peace and Freedom. "Peace was always her biggest issue," said Terence Hallinan.
In the 1980s, she opposed U.S. policy in Central America and befriended Daniel Ortega, Nicaragua's Sandinista leader. She also met with Fidel Castro.
In 1986, when she was 77, she was tear-gassed in Chile while protesting human rights abuses.
In 1990, Mayor Art Agnos named her to The City's Human Rights Commission.[4]
External links
References