Victor Reuther
From KeyWiki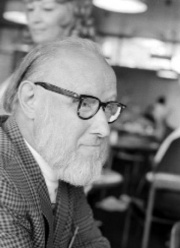 Victor Reuther died in June 2004, age 93. According to Eric Lee (Labor Start, 6/14/04), Reuther, a lifelong democratic socialist, "came from that wing of the American trade union movement which promoted 'social movement trade unionism.'" As such, he was one of labor's major voices against the Vietnam war.[1]
Background
Reuther, the son of a West Virginia steel worker, helped found the United Auto Workers with his brothers Walter Reuther and Roy Reuther. In the 1940s, he served as European representative and director of International Affairs of the CIO and later as director of International Affairs and head of the Education Department of the UAW.[2]
Honors
In 1979, he was awarded the Order of the First of May, Venezula's highest union honor; in 2002, he received the Knight of the Polar Star, Sweden's highest civilian award, and an Honorary Doctor of Laws from the University of West Virginia.[3]
Democratic Socialist Organizing Committee
Some 150 delegates and 100 observers met at Houston's Airport Holiday Inn, February 16-19, 1979, for the fourth national convention of the Democratic Socialist Organizing Committee (DSOC).
DSOC's leadership[4]at the 1979 convention included-Michael Harrington, chairman, Julius Bernstein vice chairman, Victor Reuther vice chairman, Jack Clark national secretary.
the national board consisted of-Julian Bond, Harry Boyte, Bogdan Denitch, Harry Fleischman, Irving Howe, Alex Spinrad, Gloria Steinem, Harry Walsh, Nat Weinberg, Richard Wilson
Democratic Agenda
More than 1,200 people attended the Democratic Socialist Organizing Committee initiated Democratic Agenda Conference held November 16-18, 1979, at the International Inn and Metropolitan AM Church in Washington 1 DC. The conference focused on "corporate power'; as the key barrier to "economic and political democracy," concepts many Democratic Agenda participants defined as "socialism.'
The Democratic Agenda meetings attempted to develop anti-corporate alternatives" through influencing the direction of the Democratic Party during the period leading to the July 1980 Democratic National Convention in New York.
Victor Reuther, a DSOC elder statesman, made a pitch for contacts with Soviet and other Communist country trade union representatives saying, "I thought was being very virtuous in not visiting Spain during the Franco dictatorship... Later I realized I was depriving myself of important contacts with repressed Spanish workers.[5]
Socialist honor
Association for Union Democracy
In 2008 Victor Reuther was still listed on the Advisory Board[6] for the Association for Union Democracy.
References