United Steelworkers of America
Jump to navigation
Jump to search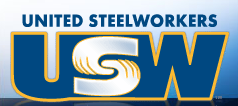 The United Steelworkers of America (USWA) is a union for steelworkers, founded in 1936 as the Steel Workers Organizing Committee (SWOC). It became the USWA in 1942.
Activism
The following groups are activist arms of United Steelworkers of America:[1]
Merges
The Amalgamated Association of Iron, Steel & Tin Workers and the Aluminum Workers of America joined the USWA in the 1940s. In the 1960s, the International Union of Mine, Mill and Smelter Workers joined the USWA. In 1961 the USWA join other trade unionists to help create New Democratic Party (NDP) in Canada.
In the 1970s, United Stone and Allied Products Workers of America and Allied and Technical Workers merged with USWA. in the 1980s, the Upholsterers International Union merged with the USWA. In the 1990s, the United Rubber Workers and the Aluminum, Brick & Glass Workers Union merged with the USWA.[2]
International Executive Board
Allies and Partners
"Allies and Partners" as of August 6, 2022:[4]
"Single - payer" movement
According to Michael Lighty, a former National Director of Democratic Socialists of America, and Director of Public Policy for the California Nurses Association/National Nurses Organizing Committee, writing in DSA's Democratic Left, Winter 2007/2008 .[5]
There's a growing movement for single-payer universal healthcare. The movement is led by activists in Healthcare-Now!, doctors in the Physicians for a National Health Program, nurses in the California Nurses Association/National Nurses Organizing Committee, leaders in labor unions such as United Steelworkers of America and Communication Workers of America, activists in the Progressive Democrats of America, and Congressman John Conyers, with the support for HR 676 by 300 union locals, 75 Central Labor Councils, and 25 state Federations of Labor, and hundreds of clergy and faith-based organizations, as well as civil rights, women's and healthcare advocacy groups in the Leadership Conference for Guaranteed Healthcare.
The policy proposals developed by Beltway think tanks and the principles for reform adopted by the AFL-CIO confer support for single-payer while allowing for private insurance-based approaches as well. Other bills in Congress, notably sponsored by Ted Kennedy and John Dingell and "Americare" introduced by Pete Stark, seek to incrementally establish a single-payer system.
External links
References