Tony Rezko
Jump to navigation
Jump to search
Template:TOCnestleft Anton (Tony) Rezko
Friends of Alice Palmer
In the mid 1990s Anton Rezko was listed as a member of Friends of Alice Palmer (in formation), alongside Danny K Davis, Timuel Black and Barack Obama.[1]
Relationship to Barack Obama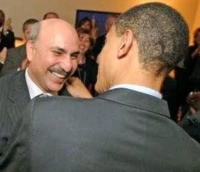 Several of Obama's official acts while a State Senator in Illinois benefited Rezko, who in turn raised some $250,000 for Obama's campaigns.
Tony Rezko's company claimed that it lacked the funds to heat one of its 11 buildings in Obama's state Senate district from December 1996 to February 1997. But Rezko still managed to write a $1,000 check to Obama's campaign fund on Jan. 14. That month, his tenants shivered as 19 inches of snow fell on northern Illinois.
In 2003, Obama voted for the Affordable Housing Planning and Appeal Act, which required Illinois municipalities to make 10 percent of their housing units "affordable" (by definition, this included subsidized housing). This forced 46 communities just outside of Chicago to create more than 7,000 new "affordable" units - a huge boost in demand for area developers. The bill also provided loopholes for developers to circumvent local ordinances and regulations. After voting for this measure (it passed narrowly), Obama then cosponsored a new bill that moved up its implementation by more than a year.
These and the other Obama-backed bills helped make millionaires of Rezko and other slum developers at taxpayers' expense. The developers - including Allison Davis, his former law boss and an adviser to his current campaign - reciprocated, together giving and raising hundreds of thousands of dollars for Obama's campaigns.
On June 15, 2005, Barack Obama bought a gorgeous house in Hyde Park for $1.65 million - $300,000 below the list price. Tony Rezko bought the empty but attractive lot next door from the same seller at the same time; Obama would later buy part of Rezko's lot, overpaying him. The transaction was shady, but not obviously corrupt.[2]
Gave Gutirrez Free Upgrades on House
Convicted political fixer Tony Rezko gave U.S. Rep. Luis Gutierrez free upgrades on a riverfront town house after the congressman asked for them, Gutierrez told the FBI in a 2008 interview.
Gutierrez told the FBI that he and his wife had had dinner with Rezko and his wife, and that he told him that the price of the town home had gone up $35,000 in two weeks -- from $399,000 when they first visited a model home to $434,900. Considering that the price had risen, Gutierrez told Rezko he thought he should get some upgrades. The upgrades eventually included an additional bathroom and higher-quality carpeting.
The interview was done in spring 2008. At the time, Rezko was on trial for corruption involving state contracts under then-Gov. Rod Blagojevich. Rezko has been a campaign fund-raiser for Blagojevich as well as Gutierrez.[3]
Arrest & Sentencing
Tony Rezko was convicted in 2008 on 16 counts of fraud, bribery and money laundering crimes. On Nov. 22, 2011, Tony Rezko was sentenced to 10-and-a-half years in prison.[4]
References