Tony Hill
Jump to navigation
Jump to search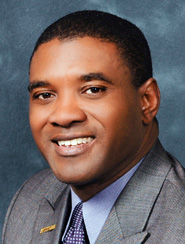 Template:TOCnestleft Anthony C. "Tony" Hill, Sr. was the Florida State Senate Minority (Democratic) Whip.
He resigned his seat in 2011, to take a job for Jacksonville's mayor-elect Alvin Brown. A special election was called to fill Hill's seat, which he would have left in 2012 due to term limits.
Hill will serve as a special assistant and liaison to Tallahassee and Washington.[1]
In 2015 Tony Hill was a consultant and working on a statewide civic engagement campaign with the NAACP aiming to get black voters out to vote.
Background
Tony Hill was born September 9, 1957 in Jacksonville, Florida. he served in the U.S. Army, 1977-1983, Baumholder, West Germany, with two honorable discharges.[2]
Hill currently works for Service Employees International Union 1199.
Legislative Service
Honors and Awards
Affiliations
Education
Activism
Reparations for the historical Rosewood massacre and a resolution apologizing for the legislatures long support of slavery and expressing Florida's profound regret for the shameful chapter in the state's history are both hallmarks of a Hill agenda.
As a state representative, Hill reverted to the old-fashioned methods reminiscent of the 1968 Civil Rights Movement by joining former Congressman Kendrick Meek (then a state senator) for a sit-in when former Gov. Jeb Bush refused to rescind an executive order to abolish affirmative action.
Barbara DeVane-Gilberg, is executive director of We All Count.A veteran labor organizer, she is also a member of the executive board of the Florida National Organization for Women . In Jan. 2000, she joined State Rep. Tony Hill and State Sen. Kendrick Meek in a 24-hour sit-in in Jeb Bush's office in Tallahassee to protest his racist "One Florida" repeal of affirmative action.[6]
"My greatest accomplishments have been having records cleared for those who participated in Florida's Civil Rights Movement from 1963 to '64, the Black Male College Explorers Program at Florida's four HBCUs and amendments to improve classroom size and minimum wage," Hill said. "What I am most passionate about is encouraging more Black males to major in education, graduate, and come out teaching school."[7]
"One Florida" protest
The mood and the surroundings finally overwhelmed state Rep. Tony Hill of Jacksonville March 7, 2000.
As a breeze cooled the stifling heat and the smooth sounds of We Shall Overcome began to waft by, Hill walked arm in arm with two of his heroes as they led a civil rights march several thousand strong to the Capitol in Tallahassee.
With the Rev. Jesse Jackson on one side and NAACP President Kweisi Mfume on the other, the usually reticent Hill paused for a moment, looked to the heavens and smiled.
"This has to be one of the most memorable days of my life," said Hill, a Democrat who has represented the north and west sides of Jacksonville since 1992. "Yes, I'd say it's the highlight of my legislative career."
Hill has been on a wild ride in the two months since he spent a night in Lt. Gov. Frank Brogan's office to protest Gov. Jeb Bush's One Florida Initiative that would do away with racial preferences in college admissions and awarding of state contracts.
Since then, Hill has toured the state to drum up opposition to the plan and has developed a new reputation as a civil rights leader and an outspoken advocate for the underprivileged -- quite a change for a lawmaker who admits he has led a relatively quiet career in the Legislature.
"I've never been one to grab the microphone," said Hill, a former longshoreman who now serves as a top official with the state AFL-CIO. "I've learned from the labor movement that sometimes you've got to sit quiet and sometimes you've got to stand up when it's time to stand up, and I'm committed to this."
Hill's efforts to fight One Florida reached their intensity yesterday when he and state Sen. Kendrick Meek of Miami led the mile-long march and protest rally that attracted thousands from around the state, as well as top civil rights and labor leaders from across the country. Each time one of the three dozen speakers mentioned Hill or Meek, the crowd cheered wildly.
"Let's raise it up for those two," shouted U.S. Rep. Alcee Hastings, who praised their efforts in his brief but emotional speech.
Hastings said earlier that he respects Hill's approach to leadership, especially how he chooses his battles carefully and doesn't use bluster or banter to make his point.
"He's always been a person who's listened well and a man of his word," said Hastings, who has known Hill for almost 20 years. "He and Kendrick have added to what will ultimately be a much larger benefit than this march: They just might make a difference in the [presidential] vote in November."
"I've known him as somebody who doesn't call a lot of attention to himself," said Russell Pelle, a teacher at Florida Community College at Jacksonville who has worked with Hill on labor issues. "But when the situation called for it, he stepped up."[8]
"Community organizer"
Writing in the Huffington Post of September 8, 2008, in an article entitled "From Organizer To Elected Official" Democratic Socialists of America member Peter Dreier listed several serving US politicians who had begun their careers as "community organizers". They were US Senator Barbara Mikulski of Maryland, Representatives John Lewis of Georgia, Jan Schakowsky and Danny Davis of Illinois, Raul Grijalva of Arizona, Linda Sanchez of California, and Donna Edwards of Maryland, Washington House of Representatives Speaker Frank Chopp, Los Angeles Mayor Antonio Villaraigosa, New York City Council Speaker Christine C. Quinn, Minnesota Secretary of State Mark Ritchie, state legislators Beth Low of Missouri, Michael Foley of Ohio, Gilbert Cedillo of California, Tom Hucker of Maryland, Tony Hill of Florida, and Crystal Peoples of New York, Alameda County (California) Supervisor Nate Miley, City Council members Jay Westbrook of Cleveland, Chuck Turner and Sam Yoon of Boston, and Melvin Carter of St. Paul, and San Francisco School Board member Jane Kim. [9]
Endorsed communist candidate
In 2002, with the motto, "Protect the real Florida – for working people!" Communist Party USA member Russell Pelle ran for the Soil and Water Conservation Board in Duval County Florida , "hammering Republican Gov. Jeb Bush for coddling corporate polluters and real estate developers".
Pelle called for protection of Florida's fragile environment. "Everywhere I go, I tell voters I am running against Jeb Bush," Pelle told the Peoples Weekly World. "The Soil and Water Board is pretty low on the electoral totem pole but Bush's policies have been a disaster for the Florida environment. If I am elected, I will fight urban sprawl, fight to protect the people from toxic wastes."
Pelle was endorsed by the North Florida Central Labor Council (NFCLC), Rep. Corrine Brown (D-Fla.) and by Tony Hill, a community organizer for the Service Employees International Union who won the Democratic nomination for State Senate from Jacksonville in Florida's Sept. 10 primary.[10]
Votes for felons
While serving as Chair of the Florida Conference of Black State Legislators, Hill and other members encouraged Florida's Governor Charlie Crist to issue an Executive Order establishing a Task Force to develop the requirements needed for the State of Florida to begin the process of restoring Civil Rights and streamlining the restoring of Voting Rights to former felons who have completed their sentences and all other court ordered requirements. In 2007 the Governor issued an Executive Order that provided for the restoration of the civil rights for certain ex-offenders.
National Black Caucus of States Institute
In 2007 Hill was appointed as an At-Large member to the Executive Board of the National Black Caucus of States Institute for a three-year term.
African tours
Also, in October 2007, in conjunction with Enterprise Florida, Hill led a trade delegation to South Africa and Namibia as part of Florida's efforts to expand business and cultural partnerships in Southern Africa. In October, 2009, Hill led another delegation to Dakar, Senegal, Cape Town, and Johannesburg. In April 2010 Hill and a delegation of heads of state and "key representatives of the African Diaspora" traveled to Senegal to celebrate 50 years of independence with Senegalese President Abdoulaye Wade.
Endorsing the People's World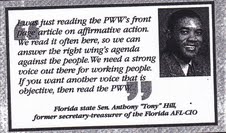 Tony Hill made a personal endorsement of the Communist Party USA's People's World of June 2, 2007, on page 2 of the publication.
Democratic Party
In 2008, Hill was one of two Senate Democratic members of the twenty-seven member Florida's electoral college to certify Florida's votes. Also in 2008, Hill was elected to a four-year term as a member to the Democratic National Committee and appointed to a four-year term as a member of the Florida Democratic Executive Committee.
Teaching program
To ensure the latter passion is both pursued and realized, Hill attended a town hall meeting with U.S. Secretary Arne Duncan and film director/Morehouse graduate Spike Lee. The purpose was to launch TEACH, a national teacher recruitment initiative that encourages more students to choose teaching careers.
ACLU award
The American Civil Liberties Union of Florida announced that Senator Tony Hill (D-Jacksonville) and Representative Betty Reed (D-Tampa) received the organization's "Defender of Freedom" award for the week which ended today, April 29, 2011.[11]
Coalition of Black Trade Unionists conference
From May 22-25, 2008, the Communist Party USA founded Coalition of Black Trade Unionists held their 37th International Convention in St. Louis, Missouri.
Rep. Bennie Thompson was one of the speakers from the May 22 opening session. He was introduced by Tony Hill of Florida.[12]
Obama connection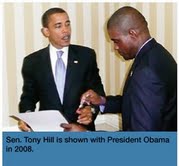 In the August 2009 Special Issue of Florida Trend Magazine, Senator Hill was featured as one of the "Must-Know Jacksonville Leaders", with the quotation " State Sen. Tony Hill was an early supporter of Barack Obama. He still has Obama's ear." In September 2009 the national political magazine, Campaign and Elections Magazine included Senator Hill as one of the fifty Democrats in "People of Influence."
"I am a community organizer," said Hill. "I started at the grassroots level and became involved in other's campaigns and attribute Obama's success to strong community organizing."
Hill was appointed one of President Barack Obama's "Fave Five" during the 2008 election cycle.
The lifetime Omega Psi Phi Fraternity member is also a sports enthusiast and joined President Obama for a Super Bowl XLV in Pittsburg, Pa.
"I've had casual interactions with the president, but I'd love quality time to talk about his growing up abroad," remarked Hill. "I admire Obama for his humility, intellect, and demeanor, but also have adoration for the wise Oprah Winfrey for her humanity and respect the motivating character of John Maxwell." [13]
During the 2008 Elections Hill served as Florida's Co-Chair of the Florida Change Committee (and as a member of the Florida Advisory Council) for Senator Barack Obama's successful bid for the Presidency. During the 2008 election cycle Hill led a state-wide bus tour, "It's About Us OBAMA/BIDEN".
EFCA supporter
On May 7, 2009, Florida State Senator Tony Hill spoke at a Town Hall Meeting in Jacksonville, expressing his unwavering support for the Employee Free Choice Act.[14]
Hope of Bermuda appointment
In May 2009, State Sen. Tony Hill said Washington insiders had told him that President Barack Obama was close to appointing him as the senior U.S. diplomat in Bermuda. He would have to resign from the Senate to take the job.
Hill wasn't scheduled to leave office until 2012 because of term limits, but two people - state Rep. Audrey Gibson and former state Rep.Terry Fields - had already begun campaigning for the seat.
Hill, an early Obama supporter who is active with the national Democratic party, said he felt fairly confident the job was his.
"They keep saying next week, but I've been hearing that for three or four weeks," he said.
The job did not eventuate.[15]
Haitian Memorial Pyramid Project
The Haitian Memorial Pyramid Project was conceived in Jacksonville, Florida by Communist Party USA member Russell Pelle several months after the January 12, 2010 earthquake. In March 2010, it was presented to and supported by Florida State Senator Anthony Hill at a Haitian-American beach party. An Executive Board was established and project incorporated November 10, 2010. The first formal endorsement came from Senator Hill Nov. 24, 2010.[16]
Alvin Brown appointment
On June 30, 2011, Jacksonville Mayor Alvin Brown unveiled many of his top-level advisers Thursday, including two state lawmakers who will serve as special assistants to the new mayor. Sen. Tony Hill, D-Jacksonville, would step down to handle the mayor's relationships with the Legislature and Congress, while Rep. Mia Jones, D-Jacksonville, would also advise Brown. Jones was not expected to resign. Attorney Chris Hand would be Brown's chief of staff, while former T-U columnist Abel Harding would take over as communications director.[17]
Working for Al Lawson
In 2016 former State Sen. Tony Hill was hired to work in Al Lawson's Jacksonville office, directing community outreach and field operations from Lake City to Jacksonville. He served in the Florida House from 1992 to 2000 and in the Florida Senate from 2002 to 2010.
Ironically, Hill initially expressed interest in running for the congressional seat if the incumbent Rep. Corrine Brown had decided not to seek re-election. She did and was defeated by Lawson.[18]
Gillum endorsement
November 9 2017 former Sen. Tony Hill endorses Gillum for Governor.
TALLAHASSEE, Fla. – Tallahassee Mayor Andrew Gillum and former Florida State Senator Tony Hill released the following statements today:
"I am extraordinarily excited to endorse Mayor Andrew Gillum for Governor today. I have known him since his days on Florida A&M University's campus as a student leader and activist — long before he became Mayor of Tallahassee. Back then you could tell he had a special quality that inspired his peers and elders, and he carries that spirit and passion with him in this race to take back Florida. He will deliver solutions to our most pressing challenges and be a true champion for Jacksonville." — Former Florida State Senator Tony Hill.
"Senator Hill has long been a mentor and friend to me, and it's humbling to receive his endorsement today. He has fought tirelessly on the frontlines for our community, and I know Jacksonville is far better thanks to his public service. I can't wait to campaign with him in Jacksonville and all over the state." — Mayor Andrew Gillum.[19]
References