Toni Walker
From KeyWiki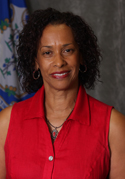 Toni Edmonds Walker is a Democratic Party, Connecticut state rep. She is married to Donald E. Walker.
Background
After settling in Connecticut, Walker worked as both a fundraiser for, and the Director of, the Dixwell Children's Creative Arts Center; a children's inner city program for arts and music. While managing The Arts Center and raising a daughter alone, she continued her baccalaureate education at Southern Connecticut State University and received a Master's Degree in Social Work at Fordham University. She maintained her ties to Southern Connecticut State University School of Social Work as a Field Advisor to both Bachelor and Master of Social Work students.
She currently serves as Vice Principal and Coordinator of Special Services and Grants at New Haven Adult Education, where she plays an instrumental role in developing, designing and implementing community-based programs.[1]
Lamont Transition team
Ned Lamont introduces his transition team in Hartford Thursday. From left his wife, Ann Lamont, and team members, Ryan Drajewicz, Attorney General George Jepsen, Garrett Moran, Dr. Elsa Nunez, and state Rep. Toni Walker. Lt. Gov.-elect Susan Bysiewicz stands in front of Moran.
Walker is among the most influential state legislators as co-chairwoman of the budget-writing appropriations committee.[2]
Toni Walker, an assistant principal in charge of grant writing and budgeting for New Haven Adult Education, has represented New Haven's 93rd General Assembly District seat in the state General Assembly since 2001. Her district includes sections of Beaver Hills, West Rock, Dwight, and the Hill.
A 17-year-veteran of the city's Hartford delegation, Walker currently serves as the House chair of the General Assembly's Appropriations Committee, which oversees all state financial appropriations and operating budgets. For years, Walker's co-chair on the committee was then State Sen. and current Mayor Toni Harp.[3]
Community activism
Toni Walker serves on the Empower New Haven Education Committee and is Vice Chair of the New Haven Youth Council. She also chairs the Department of Children and Families Therapeutic Child Care Committee, and is a member of the Adolescent Parenting Council, the Women's Leadership Forum-Executive Committee, the Domestic Violence Task Force, and Connecticut Fund for the Environment.[1]
New Haven People's Center rally
In December 2002, Connecticut state rep. Toni Walker, addressed a "no cuts. no lay-offs, no war" rally at the Communist Party USA run New Haven People's Center. Walker said she "believed in the causes of the Communist Party".
Walker said she thinks being poor in America means not being able to pay for housing, not being provided with adequate education, and not being alone. She said admonishingly that Gov. John Rowland wants to cut funding to rent assistance, education, and hunger-curing programs. Walker also accused Republicans of voter suppression.
Walker compared Republicans in the state legislature to children, saying they listen when someone tells them what to do but disobey as soon as that person is not looking.
"Do not stop putting your finger in [your leader's] face," Walker said.[4]
Those in attendance were asked to contribute a minimum of $10 to the Communist Party.
Alfred L. Marder 90th Birthday Celebration
The March 2012 Host Committee, in honor of Connecticut Communist Party USA member Alfred Marder's 90th Birthday Celebration, held at the New Haven People's Center consisted of;
Hon. Rosa DeLauro, Sen. Toni Harp, Sen. Martin Looney, Rep. Juan Candelaria, Rep. Patricia Dillon, Rep. Toni Edmonds Walker, Rep. Gary Holder-Winfield, Rep. Roland Lemar, Ald. Jorge Perez, President, New Haven Board of Aldermen, Ambassador Sylvester Rowe, Mohammed Barrie, Vinie Burrows, Mary Compton, Joelle Fishman, Craig Gauthier, Emanuel Gomez, Hilda Kilpatrick, Henry Lowendorf, Kenneth Marder, Rev. Scott Marks, William Morico, John Olsen, Quentin Snediker, Jarvis Tyner, Andrea van den Heever, Susan Yolen
A statement issued on the committee's behalf read;[5]
Dear Friends and Family of Al Marder,
We are excited to invite you to celebrate the 90th birthday of Al Marder and to recognize his many contributions, international and local, toward world peace, justice and equality.
Please join us in this joyous occasion on Sunday, March 18, at 3:00 pm at the New Haven Peoples Center, 37 Howe Street, New Haven, Connecticut 06511.
Among Al's many projects, there is one he selected for support on this occasion. The New Haven Peoples Center is a site on the African American Freedom Trail in Connecticut. It provides social, cultural and educational opportunities for the community. From his youth, Al has taken part in the activities of the Peoples Center, where today he serves as president.
Supporting Chris Murphy
New Haven Democrats gave Chris Murphy a rousing show of support for his U.S. Senate campaign—even as his opponent claimed some of them as her own backers.
The event took place Sunday, late january 2012, at the East Rock home of U.S. Rep. Rosa DeLauro. It marked the launching of Murphy's campaign organizing drive in the third U.S. Congressional District. He was running for the 2012 Democratic nomination of the U.S. Senate seat being vacated by Joe Lieberman.
Some 80 Democrats, many of them elected officials and influential activists, crammed the downstairs of the home DeLauro shares with Democratic strategist Stanley Greenberg. As Dannel Malloy learned in the 2010 gubernatorial elections, New Haven Democrats, the state's largest and best organized bloc of urban votes, are the big prize in statewide elections. Both Murphy and his leading opponent for the Democratic nomination, Susan Bysiewicz, had been calling and calling ward-level Democrats for months seeking their support.
Murphy drew an impressive turnout at DeLauro's home Sunday. Leading state legislators like state Sen. Majority Leader Martin M. Looney and Reps. Toni Walker, Roland Lemar, and Gary Holder-Winfield all spoke in support of his campaign. And 16 members of the city's 30-member (all-Democratic) Board of Aldermen showed up, including many of the newly elected labor-backed activists who represent a formidable vote-pulling force.
"I think we have the entire Board of Aldermen here!" DeLauro proclaimed while introducing Murphy to the crowd from a perch on a stairway.
"I think the overflow crowd at Congresswoman DeLauro's house spoke for itself as to who New Haven Democrats think the best candidate is to stand up for the middle class," Murphy campaign manager Kenny Curran said.[6]
Supported Progressive Health Care Reform
In late 2009, Toni Walker was one of more than 1,000 state legislators to sign a letter entitled "State Legislators for Progressive Health Care Reform". The letter was a project of the Progressive States Network and was developed in consultation with national health care reform advocates, including the AFL-CIO, AFSCME, Community Catalyst, Families USA, Herndon Alliance, National Women's Law Center, Northeast Action, SEIU, and Universal Health Care Action Network. The letter reads in part,[7]
"Failure to pass national comprehensive health reform now will further jeopardize state and local budgets, undermining public services like education, public safety, and transportation infrastructure... We, the undersigned, call on President Obama and the Congress to enact bold and comprehensive health care reform this year – based on these principles and a strong federal-state collaboration – and pledge our support as state legislators and allies in pursuit of guaranteed, high quality, affordable health care for all."
Politics
As a Connecticut State Representative she serves as Chairman to the Human Services Committee, and participates on several legislative bodies, including the Appropriations, and Judicial Committees. Representative Walker also created and chaired both the Juvenile Jurisdiction Planning and Implementation Committee and the Juvenile Jurisdiction Policy and Operations Coordinating Council. In addition, she has been appointed to serve on several policy committees by legislative forums such as the National Conference of State Legislatures and the Council of State Governments.[8]
For several years, Toni has committed herself to juvenile reform in Connecticut beginning with raising the age of juvenile jurisdiction. During the 2006 and 2007 legislative sessions, Representative Walker introduced and championed legislation that would allow for 16 and 17 year-olds to be considered juveniles in the eyes of Connecticut courts. This is a monumental step in the direction of lowering recidivism rates and increasing opportunities for troubled youth to become active and upstanding citizens.
References