Tom Morello
From KeyWiki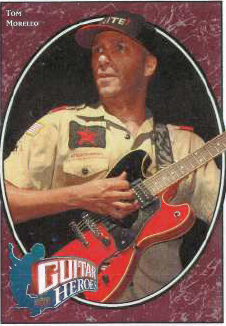 LAANE Speakers, Honorees, Entertainers
Speakers, Honorees, Entertainers at Los Angeles Alliance for a New Economy events have been;
Culture Clash, 2011 Dinner
Tom Morello, 2010 Dinner
Van Jones, President and Co-Founder of Rebuild the Dream, 2010 Guest Speaker
Sidney Poitier, Actor, 2010 Guest Speaker
Sean Penn, Actor, 2008 Guest Speaker
Danny Glover, Actor, 2007 Guest Speaker
Congresswoman Janice Hahn, U.S. Representative from California's 36th congressional district 2007 Dinner Honoree
Hilda Solis, U.S. Secretary of Labor, 2005 Dinner Honoree[1]
Supported Occupy Movement
Tom Morello put his name to a statement in solidarity with the Occupy Movement, reading "We, the undersigned musicians and all who will join us, support Occupy Wall Street and the Occupy Movement around the world.":[2]
Anti-Walmart Protest
In 2012, in Los Angeles there are many protesting the possibility of a Walmart branch being erected in the Chinatown area of the city.
L.A. Union Aficio reported that Tom Morello, fellow musician Ben Harper, civil rights leader Dolores Huerta, U.S. congresswoman Judy Chu, and L.A. Labor leader Maria Elena Durazo marched with union workers during the protest which started at the Los Angeles State Historic Park and led all the way to the intersection of Broadway and Cesar Chavez Blvd.
United Food and Commercial Workers international union president Joe Hansen told the crowd, "Our demands are clear. Walmart must provide a living wage, quality health care, demonstrate respect for local communities, and uphold workers' rights here and around the world."[3]
References