Todd Gitlin
From KeyWiki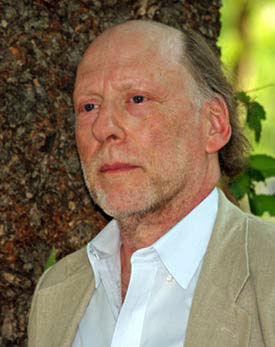 Todd Gitlin is a New York activist.
An Open Letter to the New New Left From the Old New Left
An Open Letter to the New New Left From the Old New Left.
Now it is time for all those who yearn for a more equal and just social order to face facts.
By Former leaders of the Students for a Democratic Society. April 16, 2020.
On April 13, 2020, Senator Bernie Sanders urged his supporters to vote for the presumptive Democratic nominee, former vice president Joe Biden. Writing as founders and veterans of the leading New Left organization of the 1960s, Students for a Democratic Society, we welcome Bernie's wise choice—but we are gravely concerned that some of his supporters, including the leadership of Democratic Socialists of America, refuse to support Biden, whom they see as a representative of Wall Street capital. Some of us are DSA members, but do not believe their position is consistent with a long-range vision of democracy, justice, and human survival....
We salute Bernie Sanders and our friends and comrades in DSA and in the diverse movements for social justice and environmental sanity that enabled them to rise. We look forward to joining together to build on and defend our accomplishments. And now we plead with all: Get together, beat Trump, and fight for democracy—precious, fragile, worth keeping.
The signers of this letter were founders, officers, and activists in Students for a Democratic Society between 1960 and 1969.
Signers included Todd Gitlin.
SDS days
Joe Chabot was ERAP's first organizer in Chicago. Chabot opened the first JOIN office just a few doors away from the Unemployment Compensation Office on North Kedzie Avenue. With co-organizer Dan Max, one JOIN organizer would leaflet the UCO and the other would stay behind to talk with workers who visited in response to the leaflet. In the first week, roughly one hundred people came into the JOIN office. According to an internal ERAP paper, about 80 unemployed people took on a regular role in JOIN with about ten to fifteen assuming leadership roles.
After less than a year, however, Chabot seemed defeated by one of ERAP's first lessons—that change would be painfully slow, at least at first. Chabot left and JOIN moved out of the Downtown Loop. The chapter was permanently relocated to the Uptown neighborhood, focusing attention on a wider range of pressing, and therefore actionable, community issues: welfare, housing conditions, unemployment and police brutality. As more student organizers began to arrive in Chicago, JOIN also welcomed an influx of community members who became a steady force in the organization. From Uptown, Peggy Terry, Dovie Coleman and her niece Dovie Thurman, Dorothy Perez, Dominga Alcantar, Mary Hockenberry and Candy Hockenberry, Virginia Bowers, Terry's son Doug Youngblood, Junebug Boykin and Bobby McGinness were joined by SDS organizers Richie Rothstein and Vivian Rothstein, Mike James, Diane Fager, Pat Sturgis, Steve Goldsmith, Todd Gitlin and Nancy Hollander, among others from both the community and the student movement[1]
68/86 - Student Activism in the 60s and 80s - Columbia University 1986
"Panel discussion featuring '60s Student leaders
Wollman Auditorium, Columbia University
Sponsored by Columbia National Lawyers Guild and Barnard-Columbia Democratic Socialists of America
Source: Notice in the Guardian Calendar, issue of November 5, 1986, p. 10
Opposing loans to Chile
In 1987, Joanne Landy, Thomas Harrison and Gail Daneker, Directors, Campaign for Peace and Democracy/East and West, New York, circulated a statement Against Loans to Chile calling upon the Reagan Administration to oppose all loans to Chile.
It has been signed by leading "peace, labor, human rights, religious and cultural figures from the United States, Western Europe and Latin America." They were "joined by a large number of activists and writers from the USSR and Eastern Europe, many of whom have been persecuted in their own countries for work in independent peace and human rights movements."
Todd Gitlin endorsed the call.
The majority of signatories were affiliated with Democratic Socialists of America.[2]
Socialist Scholars Conference 1990
The Socialist Scholars Conference 1990, held September 6-8, at the Hotel Commodore, New York, included panels such as:[3]
Pantheon, Publishing and Corporate Censorship
Moderator: Leo Cawley, Interlocutor, WBAI Radio Station
Todd Gitlin, Sociology, University of California, Berkeley
John Leonard, Columnist, Newsday
Jim Peck, former Senior Editor Pantheon
DSA member
Todd Gitlin was named as a member of Democratic Socialists of America, in Democratic Left, January/February 1991 issue, page 16.
Socialist Scholars Conference 1992
Todd Gitlin, University of California, Berkley was a speaker on the Politics of Identity; Ethnicity and Democracy panel sponsored by Democratic Socialists of America at the Tenth Annual Socialist Scholars Conference. The conference was held April 24-26, 1992 at the Borough of Manhattan Community College, New York City[4]
Campaign for America's Future
In 1996 Todd Gitlin, New York University was one of the original 130 founders of Campaign for America's Future.[5]
DSA's Cuba Letter
Todd Gitlin signed an April 2003 Statement on Cuba, initiated and circulated[6] by prominent Democratic Socialists of America (DSA) member Leo Casey, calling for the lifting of trade sanctions against Cuba.
"a statement circulating among democratic left/socialist folks, largely by members of Democratic Socialists of America, condemning the recent trials and convictions of non-violent dissenters in Cuba".
The petition criticized Cuba's poor human rights record, but shared the blame for Cuba's problems with reactionary elements of the U.S. administration...
The democratic left worldwide has opposed the U.S. embargo on Cuba as counterproductive, more harmful to the interests of the Cuban people than helpful to political democratization. The Cuban state's current repression of political dissidents amounts to collaboration with the most reactionary elements of the U.S. administration in their efforts to maintain sanctions and to institute even more punitive measures against Cuba.
Many of the petition's 120 odd signatories were known members of DSA.
JournoList
Todd Gitlin of Columbia University, former leader of Students for a Democratic Society, longtime Professor of Journalism, New York University, was an identified member of JournoList - an email group of approximately 400 "progressive" and socialist journalists, academics and "new media" activists.
JournoList members reportedly coordinated their messages in favor of Barack Obama and the Democrats, and against Sarah Palin and the Republican Party. JournoList was founded in 2007 and was closed down in early 2010.[7]
"Dissent" magazine
In 2009 the Democratic Socialists of America aligned Dissent Magazine masthead[8] Editorial Board members were;
Bernard Avishai, Joanne Barkan, David Bensman, Marshall Berman, Paul Berman , H Brand, David Bromwich, Luther Carpenter , Jean L Cohen, Mitchell Cohen, Bogdan Denitch , Jeff Faux, Cynthia Fuchs Epstein, Todd Gitlin, Murray Hausknecht, Agnes Heller, Jeffrey Isaac, Michael Kazin , Martin Kilson, Erazim Kohak, William Kornblum, Jeremy Larner, Susie Linfield, Kevin Mattson, Deborah Meier, Harold Meyerson, Nicolaus Mills , Jo-Ann Mort, Brian Morton, Carol O'Cleireacain, George Packer, Martin Peretz, Anson Rabinbach, Ruth Rosen, James Rule, Alan Ryan, Patricia Cayo Sexton, Jim Sleeper, Ann Snitow, Cornel West, Sean Wilentz, Dennis Wrong.
Progressives for Obama
In 2009 Todd Gitlin was listed as a signer of the Progressives for Obama website.[9]
References