Todd Freeberg
Jump to navigation
Jump to search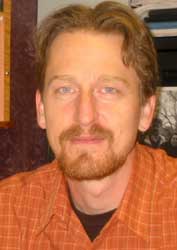 Todd M. Freeberg ... is an Associate Professor in the Department of Psychology, University of Tennessee, Knoxville[1].
I am interested in vocal communication, and have focused my studies thus far on bird species, using a combination of field and laboratory approaches. My research seeks to understand the development, function, and evolution of vocal signals and signaling.
Education
Todd Freeberg was awarded a Ph.D., from Indiana University in 1997.
Committees of Correspondence
In 2006 members of the Committees of Correspondence for Democracy and Socialism National Coordinating Committee were[2];
Marilyn Albert, Mael Apollon, Carl Bloice, Barbara Blong, Barry Cohen, David Cohen, Otis Cunningham, Carl Davidson, Mort Frank, Todd Freeberg, Pat Fry, Marian Gordon, Ira Grupper, June Hemmingson, Ed Hemmingson, Fred Hicks, Duncan McFarland, Anne Mitchell, Maxine Orris, Ted Pearson, Gina Pesulima-Palencar, Edith Pollach, Marty Price, Merle Ratner, Jay Schaffner, Jae Scharlin, Mike Stein, Harry Targ, Walter Teague, Meta Van Sickle, Steve Willett and Mildred Williamson.
References